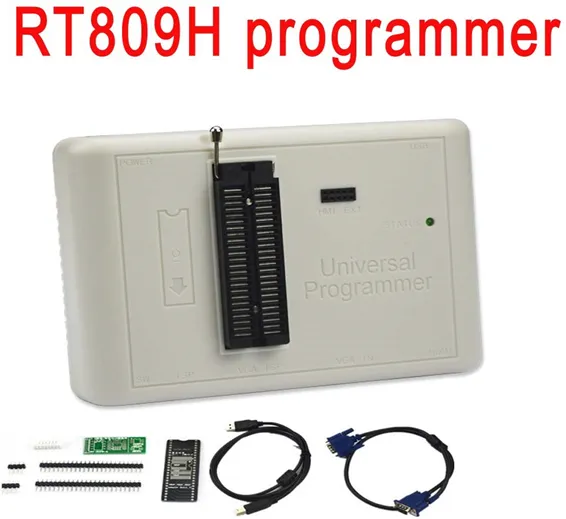 Arduino
RT809H EMMC NAND FLASH Programmer BIOS Programmer
SKU: TMD,Th2,KRT
This is Universal Programmer RT809H for NOR NAND EMMC EC MCU ISP programmer. RT809H Universal Programmer is for eMMC CAR DVD SMART TV BIOS programming. RR809H Supports FullLCD TV FLASH drivers read and write unlimited capacity TSOP48 nand FLASH EMMC TSOP56 pin TOP8-16 pin Support CAR DVD, SMART TV.
Features of RT809H:
RT809H Can automatically detect chip number for all Chips.
RT809H Can put ic in any position and make intelligent sense.
RT809H Support Read and program Laptop I/O via keyboard line.
This Support Read and Program LCD TV VIA VGA and HDMI PORT.
Support ADD new flash by yourself without the wait for the factory.
Built-in Most of repair applications TV,DVD,DVB,and many isp software.
Make self-test for LCD TV itself and diagnostic fault.
Read and programming flash on motherboard without removing out
Support Read and Programming OTP area.
Support UPTO 64GB NAND FLASH
Special Features:
48-pins powerful pin drivers, no adapter required for any DIL devices
· ISP connector for in-circuit programming
· VGA port to read and write LCD TV-MONITORS without disassembly.
· HDMI port to read and write LCD TV-MONITORS without disassembly.
· Connection to PC: USB 2.0 (up to 480 Mbit/s, high speed/full speed) and 1.1 compatible interface
· Comfortable and easy to use control program works with all versions of MS Windows
· can support any flash and very easy to add new flash.
· High programming speed.
·Advanced and powerful software functions.