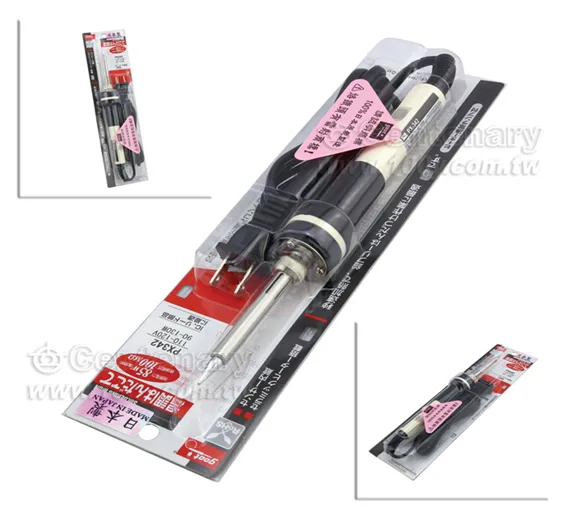 PX-338 is original good soldering iron which has an automatically controlled heater, it's mean this good soldering iron will maintain its heat at a specific point.
Automatically controls the amount of heat generated by the heat load applied to the iron tip and keeps it at a constant temperature. Quick heat recovery is possible thanks to the high power ceramic heater. The heat-insulating structure and the rubber grip cover block heat conduction to the hand. The PX-2RT series is a long-life soldering iron tip.
Specifications:
Model PX-335 PX-338 PX-342 Voltage 110-120V, 220-240V AC 50/60Hz Power Consumption 110-120V model 90-130W 220-240V model 85-120W 75-110W Temperature Setting Range 350°C 380°C 420°C Ripple temperature ±5˚C (unloaded) Insulation Resistance Over 100MΩ (500V DC) Heater Ceramic Heater Power Cord Length 1.5m Length 220mm Weight 70g Accessories Soldering Iron Tip (PX-2RT-B)
*The length does not include the cord bushing. The weight does not include the cord.
The heater is automatically controlled.
SKU:

TMD,Th,KRT

/
Category: Tools
/