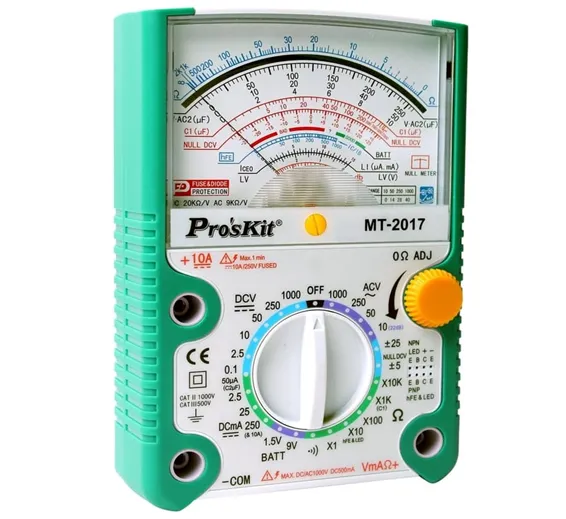 Proskit Analog Multimeter MT2017 is a new mechanism design multimeter. Analog Meter MT-2017, although older than the commonly preferred digital multimeter does come with several unique advantages. Although both digital and analogue multimeter measures varying units, such as voltage, current, and resistance, they display their readings in distinctly different ways. Analogue meter does take some energy from the circuit they are testing, whereas digital multimeters operate independently of circuit energy. In order to give an accurate reading analog voltmeter need a high level of sensitivity otherwise, the results may be skewed. When testing for resistance, the multimeter can rely on battery power.
Features Of Proskit Analog Multimeter MT2017:
New mechanism design
The robust protective case together provides better protection.
It comes with a foldable stand and connection design for practical use.
Battery covers of 9 V and 1.5 V separately, replace the battery or fuse more easily.
This Multimeter is an accurate, safe, battery-operated, rear tilt-stand, easy to operate handheld instrument with robust protective holster alongside and the adjustable back tilt device with hook-up design.
It can offer accurate, reliable measurement of DC/AC Voltage, +/-DCV, DC Current, Resistance and Diode, LED, Transistor, Decibels, Continuity test and Capacitance with very high sensitive quality movement, double-sided glass-epoxy PCB & good-designed circuit, as well as mirrored Aluminum dial plate etc.
It has the perfect full overload & miss-used protection via two Fuses, Oxide Varactor & Diodes. It is an ideal instrument for indoor use in the laboratory, school, workshop, hobby and home applications.
Specifications Of Proskit Analog Volt Ohm Meter Proskit MT 2017:
DCV: 0-0.1-2.5-10-50-250-1000V
Null DCV: dc-5 V, 25 V
ACV: 0-10-50-250-1000V
DCA: 0-0,05-2,5-25- 250 mA, 10 a
Resistor: 1 / 10 / 100 /1K / 10KΩ
Transistor: hFE: 0-1000
Front Panel Controls: range selector switch with OFF position, 0 Ohm adjustment knob
Protection of movement and indicator: 0.5A / 250 V and 10A / 250 V
Dimensions: 160 (length) x 105 (width) x 40 (height) mm
Weight: 390G approx.
Package Includes:
1 x Pro'skit MT-2017 Analog Multimeter
2 x Test leads
1 x English user manual
Best Online Shopping website for Proskit Analog Multimeter MT2017 Digital Analog Meter Analog Tester in cheap price in Karachi, Lahore, Islamabad, Rawalpindi, Sukkur, Peshawar, Multan, Quetta, Faisalabad and all over Pakistan.
SKU:

TMD,Th,KRT138

/
Category: Meters
/