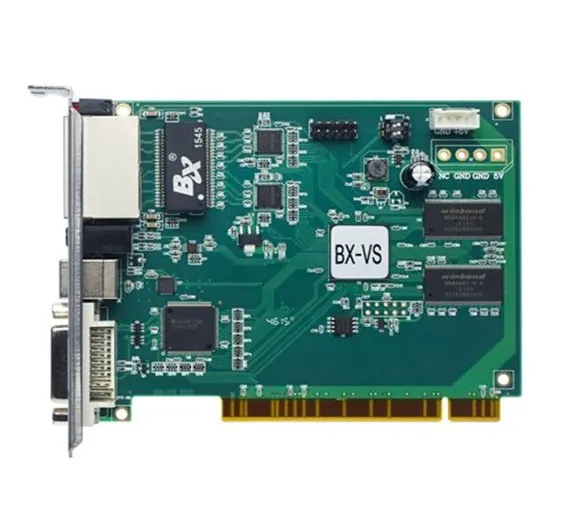 Full Color LED Sender Card BX-VS is BX gigabit network synchronous controller can display smoothly at 22 frame frequency each second when the screen size is 1280*768. This BXVS sending card supports three kinds of display mode. This Onbon LED display controller LED control system is an important performance index to measure the display effect. This display sending card Improves the display effect not only depend on the hardware technology but also depend on the superior software technology "LedshowTV SYNC media player" is the innovator leader in the industry, which has improved the full-colour led display screen performance effectively.
Features Of Onbon Sending Card BX VS:
Better performance Gigabit network control technology: BX Gigabit network synchronization controller 1280 * 768 dots can remain at 22 per second for smooth playback, the general configuration of the computer CPU share is only about 65%; this means that for 100 million points of LED display, with no need to configure synchronization controller BX send cards.
Convenient high refresh technology: BX synchronous controller supports three play modes (high brush shooting mode / recommended mode / Text mode), users need to easily switch according to their own use.
Richer display: the display is an important performance indicator LED full-colour display. Display technology to enhance not only dependent on the hardware, but also inseparable from leading advanced software technology; "LedshowTV multimedia studio" on a number of industry-leading software innovation technology to effectively enhance the performance of full-colour LED display.
A more complete product line: BX full-colour controller to meet the diverse needs of the more obvious advantages of the future.
Better user experience: more features and more fool operation, BX controller pursue the ultimate user experience.
Hardware System Online upgrade: maximize the protection of the interests of users.
Specifications Of ONBON BXVS Synchronous Full Color LED Sending Card:
Single card control area: 1280*1024
Grey Scale: 65536
Data source interface: DVI
Data output interface: 2 Gigabit network port
Maximum power: ≤4W
Working voltage: 4V~6.5V
Working temperature: -40°C~80°C
Software: LEDShowTV 2015
Package Includes:
1 x Onbon Synchronous Full Color LED Sender Card BX-VS
Best Online Shopping website for Onbon Synchronous Full Color LED Sender Card BX-VS in cheap price in Karachi, Lahore, Islamabad, Rawalpindi, Peshawar, Multan, Quetta, Faisalabad and all over Pakistan.