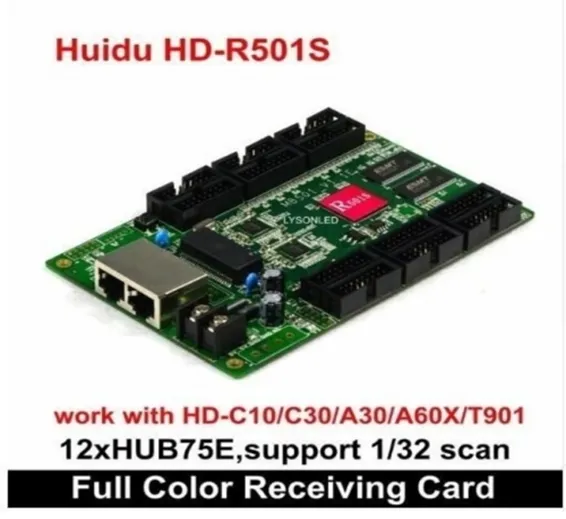 Industrial Displays
HUIDU HD-R501S 1/32 Scan Full Color LED Display Receiving P10,P8.P6.P5.P4.P3
SKU: RAWLIXHUI
1: Type: Indoor & outdoor full-color & single/dual color module.
2: Scan mode: Static 1-32 scan randomly. 3: Support areas: 256W*192H. 4: Receiving cards connected ways: Receiving card set sequence randomly, it could recognize by automatically or by hand. 5: Gray scale: 0-65536. 6: Smart set: Smart set by few simple steps, through display routine setting, it could suit almost different PCB routine. 7: Play contents: Play video、animation、picture、text、excel、PPT、time、counter etc. 8: Test functions: It have self test button, could test modes of red、green、blue、white、gray、oblique line、grid、spots etc. 9: Time on/time off: Time on /off display by defined and time on/off display by computer. 10: Port: 2pin 5V Power x 1, 1000M Ethernet port x 2, 75E HUB port x 12. 11: Working voltage: DC5V (range 4.5~5.5V).
12: Temperature: -30°C~70°C.