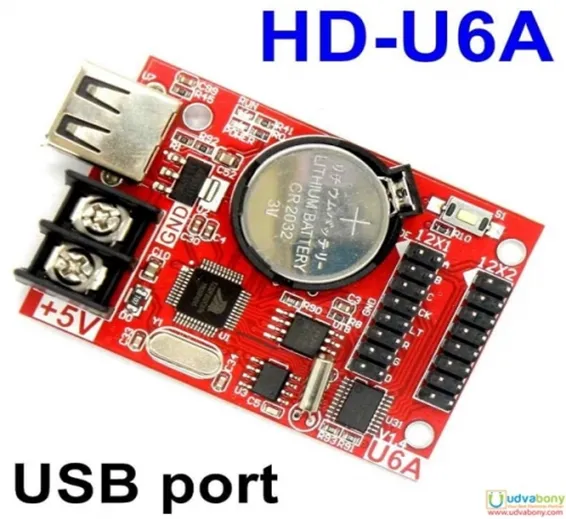 Industrial Displays
Huidu LED Display Controller Card HD-U6A (USB Port)Single color P10 Led Modules
SKU: RAWLIXHui
HUIDU HD-U6A U DISK CONTROLLER CARD Features:
Software is simple, controllable Support the guide to create screen; Support lock screen parameters; No need IP settings, software interface is simple and easy to operate.
U disk can modify the content Support a variety of commonly used scanning; U disk can support modify content, modify screen parameter and timing, and three files are separated one; Support temperature, humidity, brightness, remote control, etc.(U6A not support),the remote control support to select 1-9999 program to play; Support 7-color display, the new upgraded sixth generation card, support gradation, and regional overlap.
Support real time preview, partitions can overlap Support real time Partition (secondary development); It max supports up to 32 gray level; Support partitioned background; Support time, including timed cycle; U disk can also support common Smart settings.
User-friendly design Different price level, different control range, flexible choice; Support a variety of interfaces, support Smart settings;
Changeable width and height pixels, can be arbitrary switching.