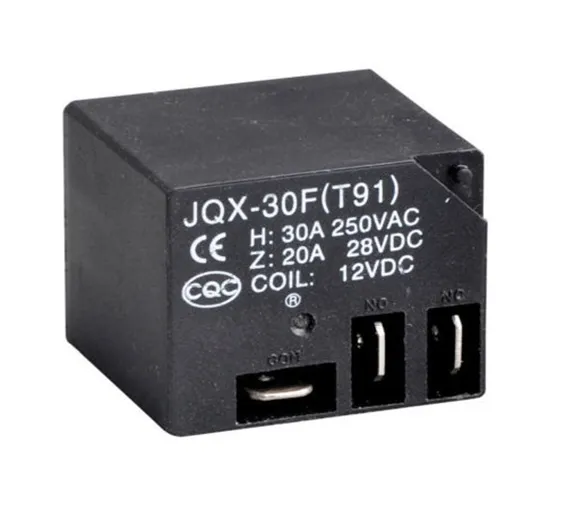 The JQX-30F electromagnetic relay is an electromechanical switch which allows low circuits to operate high current ones. This DC12VC relay is a small size, lightweight and with low coil power consumption. This relay has many advantages compared to conventional switches. For this reason, this best relay has diverse industrial and household applications.
Features & Specifications Of Electromagnetic JQX-30F (T91) Coil 12VDC 240VAC/20A Relay:
Model: JQX-30F (T91)
Type: universal
Nominal coil voltage: 12 VDC
Nominal contact system voltage: 240 VAC
Contact capacity: 20 A / 240 VAC
Contact configuration: SPST - NO
Number of pins, feathers: 6
Coil power: <0.9 W
Switch-on time: 10ms max
Mounting: PCB + 2 terminals - 6.3mm auto pen
Contact resistance: <50 mOhm
Insulation resistance: > 100 MOhm / 500 VDC
Mechanical endurance of contacts: 1,000,000 times
Electrical endurance of contacts: 100,000 times
Dielectric strength between open contacts: 1000 V rms / per 1 min
Dielectric strength between coil and contacts: 1500 V RMS / per 1 min
Operating temperature: from -45°C to + 70°C
Dimensions: 32 x 27 x 28 mm
Similar products: SIEMENS T91; OMRON G7G
Applications:
Industrial and power management.
Package Includes:
Best Online Shopping website for JQX-30F DC12VC Relay in cheap price in Karachi, Lahore, Islamabad, Rawalpindi, Peshawar, Multan, Quetta, Faisalabad and all over Pakistan.