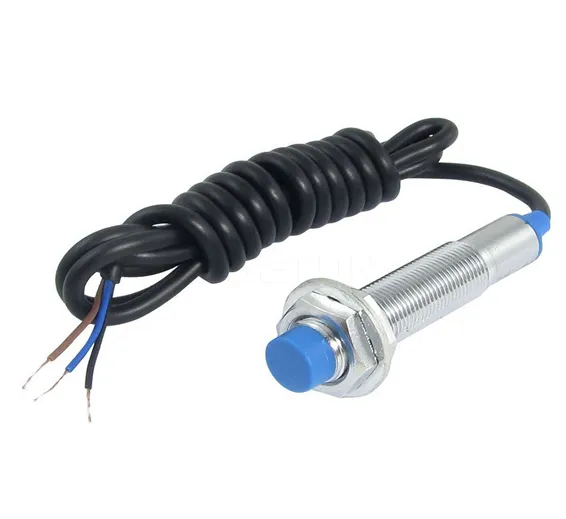 Sensors
Inductive Proximity Sensor LJ12A3-4-Z/BX in Pakistan
SKU: B249 , D01,LS10,Th5,KRT
Inductive Proximity Sensor Detection Switch NPN DC6-36V 4mm Normally Open pximity switch LJ12A3-4-Z/BX, also known as Inductive sensors, metal sensors. For those who 3D print a lot or 3D printing beginners, manually leveling a 3D printer can be time consuming and a bit mysterious. Getting it "just right" requires a good eye and constant attention while printing the first layer. Well, here comes the Inductive proximity sensor switch for 3D printer auto-leveling.
This inductive proximity sensor switch makes the auto-leveling function for 3D printers more accurate and convenient. This feature will enable your printer to take several bed leveling readings and calculate a level plane so your prints are always level. While printing each layer, you z-axis will be in constant motion to compensate for an un-level bed.
The switch contains high-frequency oscillations, a detection circuit, an amplifier circuit, a circuit solution, and an output circuit. When power is supplied to the switch, the oscillator in the high frequency oscillation circuit generates an alternating electromagnetic field on the detection surface of the switch. When there is a metal close to the switchboard detection surface, the eddy currents inside the metal absorb the energy of the alternating electromagnetic field in the oscillator. The oscillator is weakened or stopped. The oscillator changes the energy in two states, the detection circuit is converted into a signal level, through the amplifier circuit to amplify the signal level after the start of the circuit to initiate the output transistor circuit to produce the signal switch. This determines the presence or absence of metal. To achieve the goal of metal detection.
Benefits :
Save time messing with springs and screws on your print bed. Run the Auto-level procedure before every print or just one time for each start-up of the printer. Less issues related to un-level print beds like parts coming up on one corner and nozzles jamming because the print started too close.
Note: To set up your printer for auto-leveling, you need to update your firmware and make a mount for your Inductive Proximity Switch.
Specifications and Features :
Product Name : Inductive Proximity Switch.
Model : LJ12A3-4-Z/AX.
Theory : Inductive Sensor.
Wire Type : 3 Wire Type (Brown, Blue, Black).
Switch Appearance Type : Cylinder Type, Metal Shell.
Output Type : NPN NC.
Detecting Distance : 4 mm.
Supply Voltage : DC 6 V-36 V.
Output Current : 300mA.
Detect Object : Iron.
Column Sensor Diameter : 10.4mm/0.4″.
Thread Diameter : 12mm/0.5″.
Total Size : 66 x 21 mm/ 2.6" x 0.8" (L x Max.D).
Cable Length : 1.16m/35.7".
External Material : Plastic, Metal.
Net Weight : 43 gm.
Color : Silver Tone, Orange,Gray.
Attachments and Links :
Home switch wiring example using Inductive Proximity Sensor Detection Switch NPN DC6-36V 4mm Normally Open proximity switch LJ12A3-4-Z/BX
Tube Type Inductive Proximity Sensor Detection Switch NPN DC6-36V
Package Includes :
1 x Tube type Inductive Proximity Sensor Detection Switch.