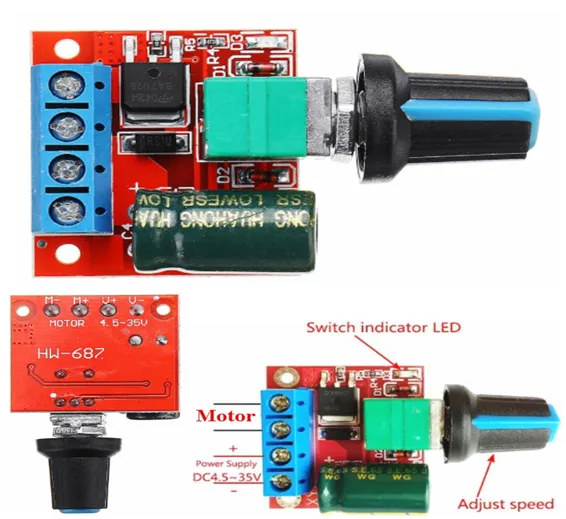 DC Motor
HW-687 5A Mini DC Motor PWM Speed Controller Module
SKU: B139,d73,IMP50,Th20,KRT115
HW-687 is one easy module for adding speed regulation to your next DC motor-based project. It is a simple pulse-width-modulated speed controller providing smooth control with almost no jerks. There is no soldering involved, so it is perfect for quick prototyping and modeling, especially for those not having easy access to requisite raw materials
Features:
Mini wide voltage DC motor governor, using the latest low voltage drive technology, suitable for voltage wide DC5-35V (5-9V input needs to be shorted), with self-recovery fuse, also suitable for LED dimming.
Specifications:
Operating voltage: DC5V-35V
Output current: 0-5A
Output power: 90W (max)
PWM duty cycle: 1% -100%
PWM frequency: 10khz
Size: 30mm x 24mm x 15mm (Without Handle)
Precautions:
DC motor governor input is DC, can not directly be connected to the AC (for example home 220V AC), otherwise, it will burn!
DC power supply positive and negative terminals do not reverse, otherwise, the governor may be damaged.
The motor can be positive or negative when the direction of operation and expectations do not match, you can adjust the line order to change the direction.
Adjust the potentiometer knob to change the governor output duty cycle, the motor speed changes.
Package Include:
1X 5A Mini DC Motor PWM Speed Controller Module
1XNut
1XDimmer Cap