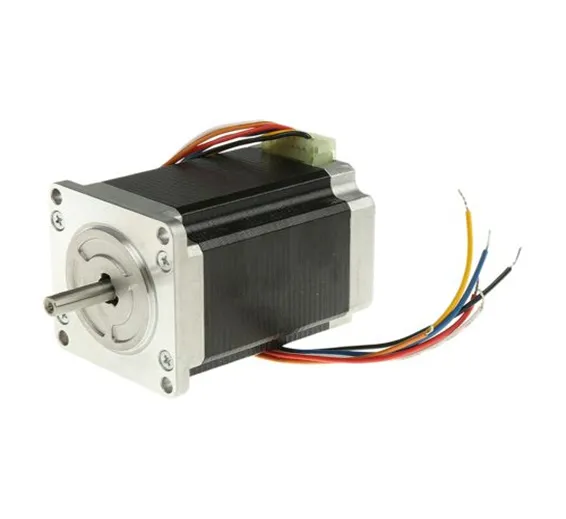 Stepper Motor
High Torque NEMA 23 Stepper Motor 2.7A 1.8 degrees NEMA23 For CNC 3D printers
SKU: B425,TMD,Th100,KRT
High Torque NEMA 23 Stepper Motor is a high torque hybrid bipolar stepping motor with a 3.4×3.4 inch faceplate. High Torque 2.7A Stepper Motor, Hybrid stepper has a combination of the features of the Variable Reluctance Stepper Motor and Permanent Magnet Stepper Motor. This Hybrid Bipolar motor has a step angle of 1.8 deg., this means that it has 200 steps per revolution and for every step, it will cover 1.8°. This NEMA 23 is a 2-Phase motor with 4 wires. Compatible controllers for this motor are TB6560, TB6600 and 2DM860,
Features Of 4 Wire Bipolar Nema 23 Hybrid Stepper Motor:
It converts a train of input pulses into a precisely defined increment in the shaft position.
This is a high-quality motor that can be used for a long time without stuck.
It has a quite stable performance during work and will not lose a step.
Low noise and big torque,
This is a great choice if you need a stepper motor.
Stepper motor can be widely used for a 3D printer, CNC engraving machine, etc.
Specifications of TB6560 Compatible NEMA23 1.8 Degree 2.7A Stepper Motor:
Step Angle: 1.8°
Phase Current: 2.7A
Phase Resistance: 1.5Ohm
Phase Inductance: 2.8mH
Holding Torque: 40N.cm
Rotor Inertia: 54g.cm⊃2;
Max. Temperature Rise: 80℃ (rated current, 2 phase on)
Operating Temperature: -20℃~+70℃
Insulation Resistance: 100 MΩ Min. , 500VDC
Electric Strength: 500VAC for 1minute
Radial Clearance: 0.02Max. (450g-Load)
Axial Clearance: 0.08Max. (450g-Load)
Max. Axial Pressure: 20N
Note:
This is a Used Product and may be scratches on it.
Because of its weight, it's advance payment only
With Pulley Option Not Available Now as shown 2nd To End Images.
Package Includes:
1 x High Torque Nema 23 Stepper Motor
Best online shopping website for High Torque NEMA 23 Stepper Motor 1.8 Degree 2A Stepper Motor For CNC 3D Printer Machines at a cheap price in Lahore, Islamabad, Karachi, Faislabad, Multan, Quetta, Sukkur, Peshawar, Rawalpindi, and all over Pakistan