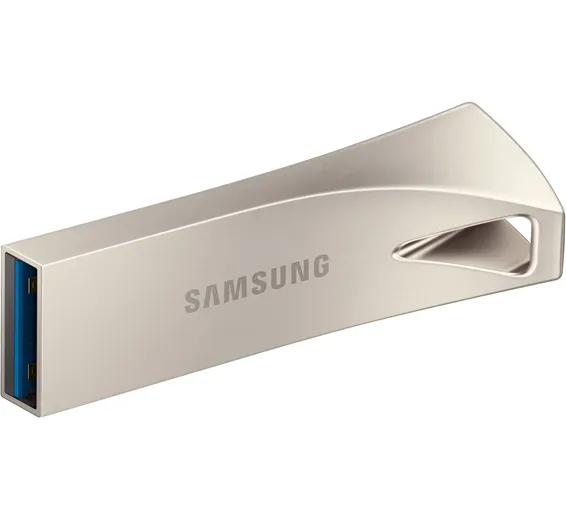 Economical Samsung 64GB USB 3.1 Flash Drive Bar Plus Overview:
With its stylish,compact design and generous capacity , the Samsung 64GB USB makes it easy to back up,transfer,and share your files,this USB drive lets you carry your photos,movies,music,and personal data wherever you go.This portable capless USB Flash Drive is so compact and light,you might not even feel it in your pocket.
Features
(1) Speed in Style
A modern take on a classic. The next generation Bar Plus elevates the flash drive to an everyday essential, offering impressive speeds in a striking design. Fits in your hand, a pure minimalism that cleverly blends style, speed, and reliability.
(2) Move Files in a Flash
Get your time back. Fast and convenient read speeds up to 300 MB/s with the latest USB 3.1 standard gives you more time to work, play, watch, and create. Send a 3GB 4K UHD video file from your Bar Plus to your PC in just 10 seconds.
(3) Rugged Refinement
As rugged as it is stylish. The sturdy metal body keeps your data safe and intact, and the integrated key ring prevents accidental misplacement or loss. The Bar Plus is the ideal combination of stunning design and worry-free durability.
(4) Tough & Trusted
Files stay secure, anywhere you go. Samsung's leadership in flash memory makes the Bar Plus a trustworthy drive to store your valuable data. It works through it all with a waterproof, shock-proof, temperature-proof, magnet-proof, and X-ray-proof body.
Compatible with wide range of Devices
Windows 10 ,Windows 8.1,Windows 8,Window 7.1,Mac OS ,Linux.USB can also be used with any device equipped with a USB port without additional software,including TVs,Blu-ray players,DVD players,stereos,digital photo frames,and game console.
Package Includes :
1 x Economical Samsung 64GB USB 3.1 Flash Drive Bar Plus