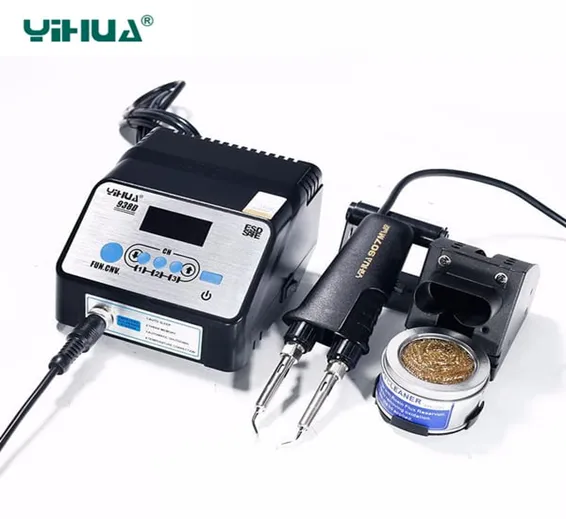 YIHUA 939 BD+ Iron Solder Station is the latest generation of intelligent high-performance temperature control soldering station, which designed for beginners and experts. The Welding machine has been upgraded with a new backlit panel using the newest LCD technology, offering a beautiful and elegant look, and accurately displaying the temperature of the tweezers and other functions. High Power Welding station
Uses PID programmable temperature control technology,
applying sophisticated PID programming into the machine to rapidly track, test, and correct the actual temperatures of the tweezers and soldering iron. Rapid temperature compensation reduces temperature error. Temperature stability and temperature compensation speed are significantly better than similar products. The soldering tweezer station is ideal for use soldering small components and small IC.
Features Of Adjustable Temperature Digital Soldering Rework Station:
Adopt microcomputer control,warming-up quickly.
High-quality durable brushed aluminum front panel and rugged housing.
Heat resistant silicone cord
Uses PID programmable temperature control technology,
The internal design uses SMT double-sided panels, producing a neat arrangement; signal flow is clear, and the stability and operational safety of the machine have been further strengthened.
Long 1.5-meter soldering iron cord.
The handle for the soldering tweezers has a unique design and is paired with a unique soldering iron stand.
Smart temperature detection, open circuit protection, short circuit protection, and overload protection.
ESD safe design of soldering iron to protect sensitive components. CE approved.
Specifications Of YIHUA 938D SMD Hot Tweezer soldering station:
Model: YIHUA-938D
Temperature Compensation Programmable: -50 °C to +50 °C
Sleep Function: 0-99 Minutes
Auto Shutdown Function: 0-99 Minutes
Total Power Consumption: 90 Watts
Hot Tweezers Temperature Range: 100°C ~ 480°C/ 122°F ~ 896°F
Hot Tweezers Temperature Stability: ±2.0°C/ 3.6°F
Soldering Iron & Hot Tweezers Cord Material: 100% Silicone (Virtually No Memory)
Working Environment: 0°F ~ 122°F/ 0°C ~ 50°C
Storage Environment: -68°F ~ 176°F/-20°C ~ 80°C
Package Include:
1 x Yihua 938d SMD Tweezers Soldering Station
Best online shopping website for Adjustable temperature Digital SMD Tweezers Soldering Station YIHUA 938D in cheap price in Lahore Islamabad Karachi Faislabad Quetta Rawalpindi Multan Sukkur Peshawar Gujranwala Sialkot and all over Pakistan
SKU:

RAWLIXDig

/
Category: Tools
/