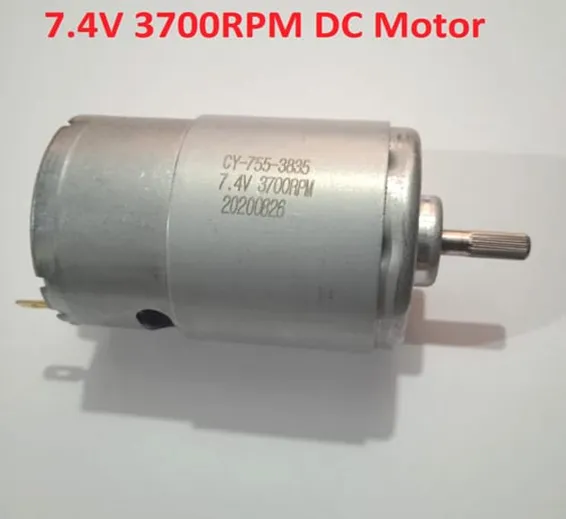 DC Motor
7.4VDC 3500RPM DC Motor RS755 High Speed High Torque Motor CY 755 3835
SKU: b782
Features And Specifications Of RS-755 DC 7.4V 3500RPM Large Torque Ball Bearing Mute Motor Knurling shaft:
Motor type: 755-3835
Voltage: DC7.4V-12V
No-load speed: about 3700 rpm at 7.4V
12V about 6000 rpm
The measured 6-12V can be operated, and the temperature rise is not obvious!
The motor is suitable for low-speed and high-torque occasions, micro-drilling and grinding power!
Motors without cooling fans should be low-speed without compulsory heat dissipation!
No-load current: 7.4V0.49A 12V0.56A
Shaft diameter: 5mm Shaft Length: 20mm
Motor outer diameter: 42mm Motor length: 60mm
Motor power is relatively large, the power requirements are relatively high, the lowest voltage regulated power supply or battery can play a role.
Package Include:
Best online shopping website for 7.4V 3500RPM DC Motor 755 Low-Speed High Torque Motor For Electric tool Electric drill Bench drill spindle at cheap price in Lahore Islamabad Karachi Faislabad Multan Quetta Sukkur Peshawar Rawalpindi and all over Pakistan