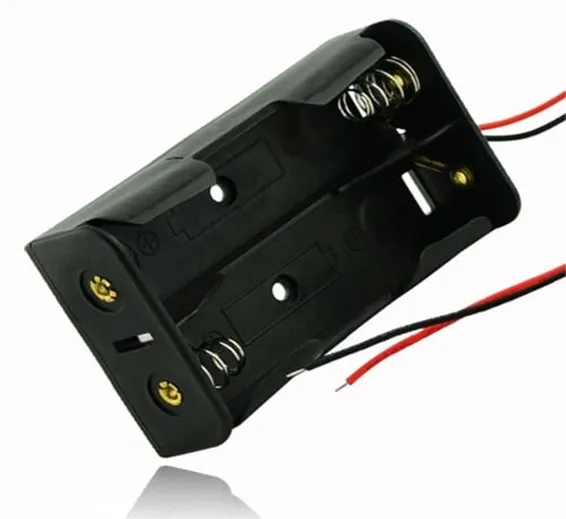 SKU: B277 D96,IMP500,L50,Th20,KRT123,N131
2x 18650 Cell Battery Holder is an incredibly simple two-cell Battery Holder. 2x 18650 Cell Battery Holder, when someone thinks of 18650 Cells they tend to think of flashlights first, which is fair since that is what they have been primarily used for. However, with this battery holder, you will gain the ability to incorporate 18650 cells into applications like robotics or prototyping by simply dropping one into this device and attaching the leads, that's it.
There are some other battery holders that are we selling also like, 4xAA holder, 2xAA holder.
Features of 2x 18650 Cell Battery Holder:
The case can hold 2 x 18650 batteries (battery is not included).
Keeping your standard or rechargeable batteries together and safe.
Two Slots 2x 18650 Battery Holder Case with wire leads for soldering / connecting.
Output leads approximately 6" long for soldering or connecting to your circuit.
Mounting holes in the bottom to secure to a panel, bulkhead or mounting plate.
High-Quality Plastic Holder.
Small size, easy to carry.
This product is easy and convenient to use.
Specifications of 2x 18650 Cell Battery Holder:
Material: Plastic and metal.
Weight:15g.
Colour: Black.
Features: No internal PCB, for flat-top cells.
Output Voltage: 8V (4V x 2).
CAUTION: The wire leads are 26AWG, and should be limited to about 3A maximum current. Operation at greater than 3A (about 24W at 12V) may result in overheating and damage to the wires and battery holder.
Package Includes:
1 x 2x 18650 Cell Battery Holder
SKU:

B277 D96,IMP500,L50,Th20,KRT123,N131

/
Category: Components
/