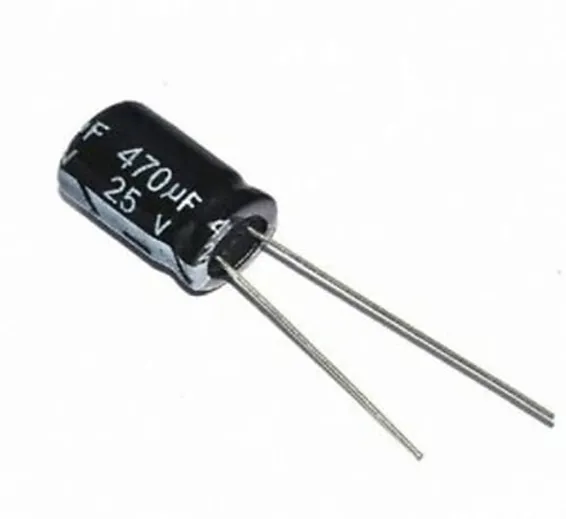 Best Online Shopping website for Capacitor Here you get 25V 470uF Capacitor in reasonable price in Karachi, Lahore, Islamabad, Rawalpindi, Peshawar, Multan, Quetta, Faisalabad and all over Pakistan.
25V 470uF Electrolytic Polar Capacitor is an electronic component that stores electric charge. 25V 470uF Electrolytic Polar Capacitor is made of 2 close conductors (usually plates) that are separated by a dielectric material. The plates accumulate electric charge when connected to the power source. One plate accumulates positive charge and the other plate accumulates negative charge. These capacitors are great transient/surge suppressors and work well in high-voltage and audio applications. High-quality radial electrolytic capacitors.
Features of 25V 470uF Electrolytic Polar Capacitor:
General-purpose Aluminum Electrolytic Capacitors.
Great for repairing LCD TVs, LCD Monitors, Motherboards, Audio systems and other consumer electronics.
Safe, durable and reliable.
Used high-quality material to save your devices.
Great transient/surge suppressors.
Work well in high-voltage.
Specifications of 25V 470uF Electrolytic Polar Capacitor:
Value 470uF Rated voltage 25V Diameter 5 mm Height 11mm Lead pitch 2mm Tolerance 20%
Package Includes:
1 x 25V 470uF Electrolytic Polar Capacitor