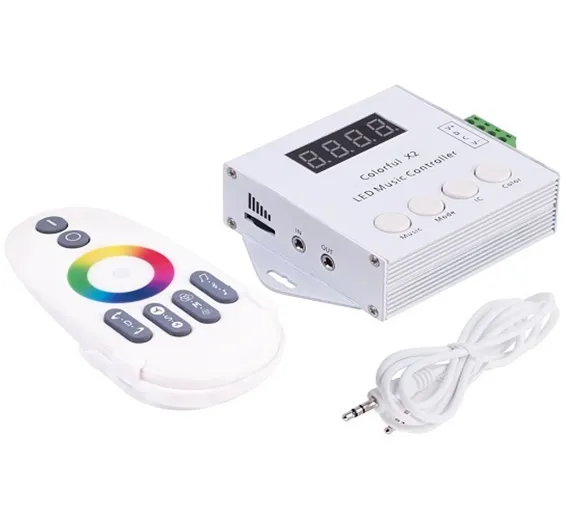 LED Display
X2 Music LED Controller With Remote For WS2811 WS2812B
Availability:
Out Of Stock
SKU: IMP,Th,KRT138
X2 Music LED Controller is the most commonly used to control the electronic musical keyboard MIDI controller. X2 Music LED Controller, the keys are played, the MIDI controller sends MIDI data about the pitch of the note, how hard the note was played and its duration. Other common MIDI controllers are wind controllers, which a musician blows into and presses keys to transmit MIDI data and electronic drums. The MIDI controller can be populated with any number of sliders, knobs, buttons, pedals and other sensors, and may or may not include a piano keyboard. Many Audio control surfaces are MIDI-based and so are essentially MIDI controllers.
Features of X2 Music LED Controller With Remote For WS2811 WS2812B:
The radio-frequency capacitive touch controller, effective control of distance of 20 m
Using LED buttons backlight, easy to use at night
The audio port, the 3.5 MM audio access, undisturbed when using music mode, make the lights change rhythm is better
The advanced PWM pulse width modulation technology, change effect is exquisite, the fixed link end connection
A variety of classic mode, follow the selected
27 music change modes let the whole atmosphere more rhythm.
All remote control to wear a special fixed seat, easy to install
Specifications of X2 Music LED Controller With Remote For WS2811 WS2812B:
input power: : DC 5V~ 24V
output: data signal
support IC type: WS2811/WS2812B/WS2813/USC1903
Drive pixel quantity: about 1000 pixels(Colorful x2)
voice control: 70 dB
remote control battery: 1.5V AAA *2 ( Products do not include batteries)
remote standby power consumption: 0.08 mW
products working temperature: – 20 ~ 60-degree centigrade
Application
Interior decoration:
Clubs, bars, corridor, room, KTV, clubs, museums, etc.
Outdoor decoration
Plazas, commercial buildings, entertainment clubs, scenic spotlight, evening on location, etc.
SKU:

IMP,Th,KRT138

/
Category: Displays
/