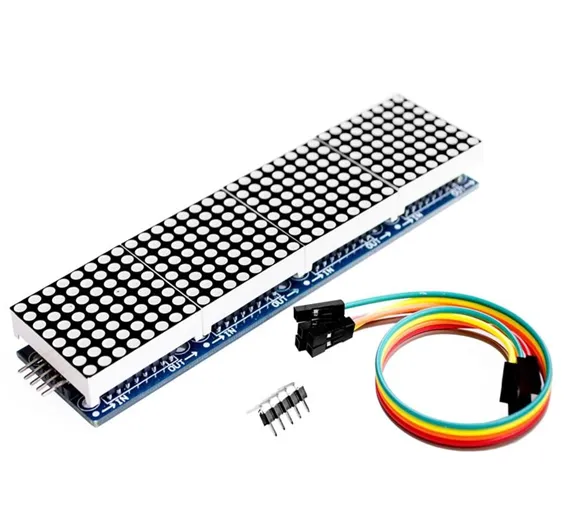 LED Display
Dot Matrix Module Red LED 4 In Line 8x8 Display MAX7219 with 5-Way 20cm Cable Arduino Compatible
SKU: B 75,IMP30,Th10,KRT120,512
This module is made up of 4 matrices each of 8 by 8 LEDs. Each 8 x 8 matrix has its own MAX7219 driver, creating an 8 x 32 LED dot matrix display. The Arduino communicates using serial data, needing just 3 I/O to drive the whole display.
Features:
The left side of the module to the input port, the right to an output port
When the control of a single module, simply input port connected to CPU
When a plurality of cascaded modules, input and output termination CPU, an input terminal of the second output end of the first module a module, the first two modules of the input terminal of the three termination modules, and so on...
51 microcontrollers, for example:
VCC 5V
GND GND
DIN P2.2
CS P2.1
CLK P2.0
Size for manual measurement, there may be a 0 to 2 cm error, belongs to the normal phenomenon.
And due to the difference between different monitors, the picture may not reflect the actual color of the item.
Specifications
Operating Voltage: 5V
A single module can drive a 8x8 dot matrix common cathode
Dimensions: 12.8X12.8X1.3 cm
Fixing screws with 64 holes with a diameter 3mm
Module with input and output interfaces, support for cascading multiple modules
Package Include:
1x MAX7219 Dot Matrix Module 4-in-1
1x 20cm DuPont line 5pin
SKU:

B 75,IMP30,Th10,KRT120,512

/
Category: Displays
/