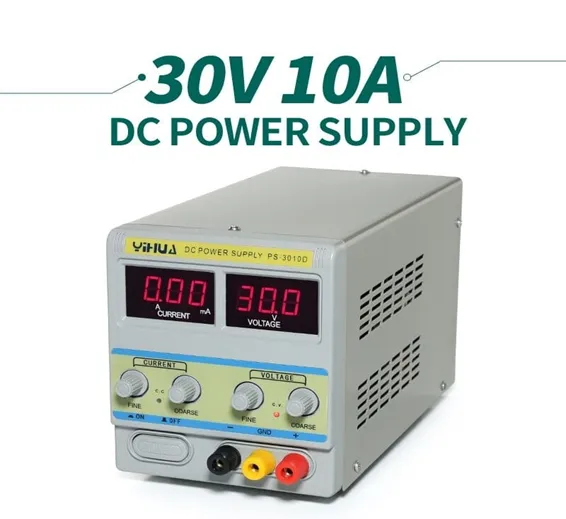 This YH-3010D or YH3010D variable voltage DC power supply unit now features a Dual LED display with highly accurate LED digital readout. This high voltage dc power supply which has maximum output 30V at 10A. This dc voltage supply has high stabilized output voltage. This best lab power supply short circuit protection. Overloading and current protection.
Features Of YIHUA YH3010D Variable Power Supply:
Output constant current adjustable
Output constant voltage adjustable
LED voltage and current display
Constant voltage and current operation in individual
Over-current protection
Current and voltage regulation are smooth and not gears regulation
Compact Design
All-Metal Construction
Dual LED Display
High Stabilized Output Voltage
Short Circuit Protection
Over Loading and Current Protection
Weight: 6.8kg
Specifications Of YH-3010D Digital Variable DC Power Supply:
Supply power: AC 220-240V, 50Hz/60Hz.
Working Temperature: -10°C ~ 40 °C
Relative Humidity: ‹ 90%
Storage Conditions: -10°C ~ 40 °C
Relative Humidity: ‹ 80%
Voltage Stability: ≤0.01% +2mV
Load Stability: ≤ 0.01% +2mV
Recovery Time: ≤100µS
Ripple Noise: ≤1 MVRMS(RMS)
Temperature Coefficient: ≤ 200PPM/°C
Power Stability: 0.1% + 3mA
Load Stability: 0.2% + 3mA
Ripple Noise: ≤2mAr
Package Includes:
1 x YH-3010D Variable Voltage DC Power Supply
Best Online Shopping website for Variable Voltage DC Power Supply YH3010D High Voltage Power Supply Adjustable Laboratory Power Supply in cheap price in Karachi, Lahore, Islamabad, Rawalpindi, Sukkur, Peshawar, Multan, Quetta, Faisalabad and all over Pakistan.