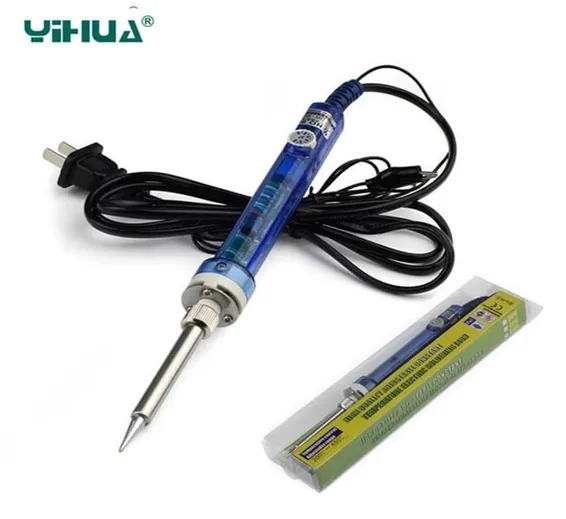 Soldering Tools
Temperature Control Soldering Iron 60W YIHUA YH908
Availability:
Out Of Stock
SKU: RAWLIXTem
Internal Heat Soldering Iron YH908 is the latest generation of intelligent high-performance temperature control soldering station, which designed for beginners and experts. Exquisite patented design, the use of new environmentally friendly high transparent material, integrated mini
malist design gives the atmosphere and feel
. While the handle central with a high-temperature insulation ring is to prevent heat transfer to the handle. 60W Electric Welding iron has overall stability is much higher. Using the latest Temperature control Solder, energy-efficient, while rapid heating, cutting temperature recovery performance. Users can very easily adjust the settings as needed between 200-450 degC. High-quality soldering Rod capable of doing lead-free soldering.
Features Of YH-908 Electric Soldering Iron With ThermoCouple:
Exquisite patented design, the use of new environmentally friendly high transparent material, positive transparent, back scrub
malist design gives the atmosphere and feel
Handle central with a high-temperature insulation ring to prevent heat transfer to the handle effectively use a light touch and comfortable
Circuit part uses the dual-panel, SMD technology design, electric iron overall stability is much higher.
Using the latest temperature control circuit, energy-efficient, while rapid heating, cutting temperature recovery performance.
With thermostat circuit, thermostat range 200 °C-450 °C. Users can very easily adjust the settings as needed.
Use long-life lead-free solder tips, can be applied to a variety of lead-free soldering processes.
Anti-static design, additional alligator clip ground wire, anti-static devices to meet different requirements.
Adopt a common device design, easy to replace devices
Specifications Of High Power Temperature Control Welding Solder:
Model: YH908
Rated Voltage: AC 220V ± 10V 50Hz
Output Power: 60W
Temperature Range: 200 ~ 480C
Solder head to ground impedance < 2Ω
Solder head to ground voltage: < 2mV
Soldering Iron Wire: Silicone wire
Dimension: 20.9cmx6cmx4cm
weight: 0.2 kg
Package Include:
Best online shopping website for Adjustable temperature High Power Soldering Iron Rod Rework Station 60W YIHUA YH908 in cheap price in Lahore Islamabad Karachi Faislabad Quetta Rawalpindi Multan Sukkur Peshawar Gujranwala Sialkot and all over Pakistan
SKU:

RAWLIXTem

/
Category: Tools
/