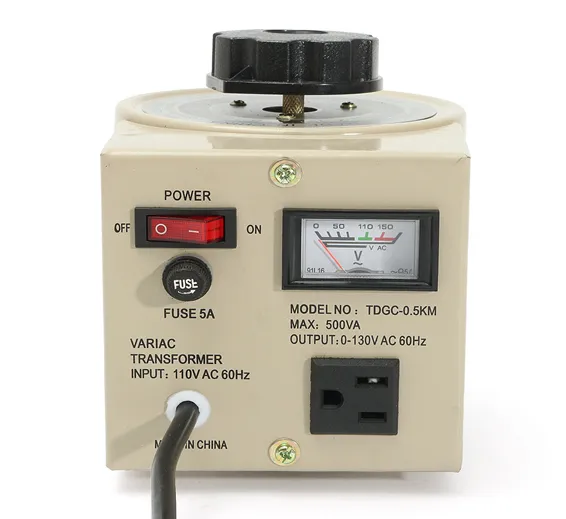 Features:
Enclosed, non-isolated, adjustable transformer, with output volt meter.
On/Off Power Switch(Lighted), 5A fuse & power cord.
Built-in copper coil, material quality, more secure and durable.
High efficiency and with no waveform distortion.
Over-voltage protection, the use of more security.
Contact voltage regulator, wide voltage range (0-130V)
Suit for home coffee roasting,Motor Speed control, Label Printing Machine,EE Labs,Test for Railroad Switching, Power Supplies, satellite, equipment, telecommunication equipment.
Specifications:
Model: TDGC-0.5KVA
Material: Iron (shell),Copper coil
Color: Grey
Max. 500VA
Input Voltage: AC 110V/60Hz
Output Voltage: AC 0-130V/60Hz
Max output: 5 Amps
Plug Type: US Plug
Condition Temperature: <40℃
Humidity: ≤5%
Working Hours: 8 hours
Withstand Voltage: 2K V 1 minute
Insulated Resistance: >10MΩ
Power Cord length: Approx. 125cm/5"
Dimensions: 14 x 11 x 14.5cm/5.51 x 4.33 x 5.71"
Packaged included:
1 x AC Power Transformer
1 x English User Manual