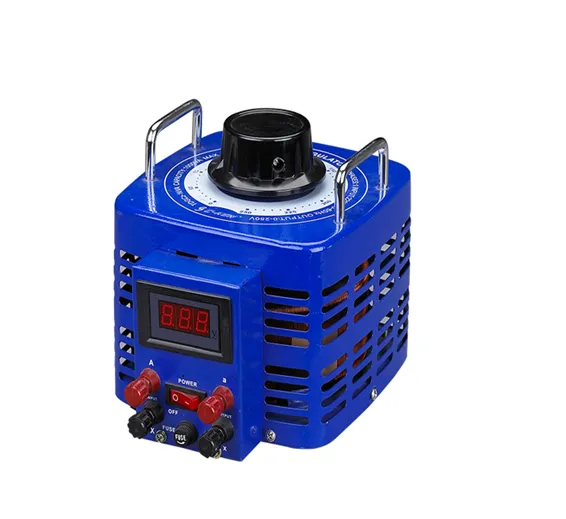 TDGC2 (TDGC2J) contact voltage regulator with waveform distortion, small size, lightweight and with high efficiency. This variable transformer is easy to use, reliable and long-term operation. This 16amp single phase ac voltage regulator has also other characteristics like it can be widely used in industry (eg chemical, metallurgy, instrumentation, electrical and mechanical manufacturing, lightworkers, etc.), scientific experiments, household appliances, control speed, dimming and power control purposes, the three an ideal AC voltage power supply.
Features Of Single-Phase Regulator Input 220V Digital Display Variable Transformer:
Variable Autotransformer is generally used in laboratories and science labs in schools and colleges and is known more commonly as the Variac. Variable autotransformer contains a variable tap in the form of a carbon brush that slides up and down the primary winding which controls the secondary winding length and hence the secondary output voltage is fully variable from the primary supply voltage value to zero volts.
Variac can adjust the voltage to the load smoothly from zero to the rated supply voltage.
Specifications Of 16Amp Single Phase AC Voltage Regulator:
Capacity: 16Amp
Item Name: TDGC2 Single Phase Series Regulator(Variac)
Input Voltage: 220V
Output Voltage: AC0-250V
Ambient Temperature: -5 40
Frequency: 50H/60Hz
Phase: Single
Temperature Rise: <90.C
Insulation Resistance: >5M
Waveform Distortion: NO additional waveform distortion
Efficiency: 90%
Dielectric Strength: 2000V/min
Load Power Factor: 0.8
Package Includes:
1 x 16Amp Single Phase Ac Voltage Regulators Variable Transformer Variac
Best Online Electronics Store for 16Amp Single Phase Ac Voltage Regulators Variable Transformer Variac in reasonable price all over Pakistan.