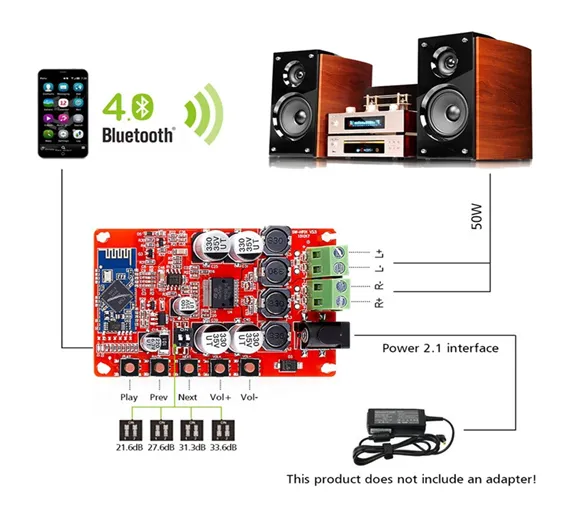 Lights
TDA7492 12V 24V 50W + 50W Wireless Bluetooth 4.0 Audio Receiver Board 2x50W Digital Amplifier Module
SKU: 7492R44
TDA7492P digital power amplifier chip, design optimization, circuit design, sound quality is very good, big power. DIP switching amplifiers can be adjusted directly after gain more respect and promote greater damping cushion. TDA7492P is class d audio amplifier with small sized pcb board and bluetooth option. It has controll switches with bluetooth 4.0 option.
Specification
Chip: TDA7492P
Power: 2.1 interfaceThe best adaptation voltage: 12V
Best fit speaker: 25W + 25W (note:9 to 24v voltage can be universal, but will affect the speaker sound quality)
Audio input: CSR8635 Bluetooth chip, Bluetooth V4.0(stereo input various versions of the bluetooth connection)
Output Impedance: 8Ω(Best), 4/6/8/16Ω impedance can drive speakers
Output Power: Add pre-5532 output foot (powered 25V,6Ω impedance output 2x50W, 8Ω impedance output 2x40W dual-channel)
Features
Brand new and high quality.
The sound quality is very good, big power.
DIP switches can be adjusted directly after the amp gain more respect and better promote greater damping horn.
Package Included: 1x TDA7492P Bluetooth 4.0 Audio Receiver Amplifier Board