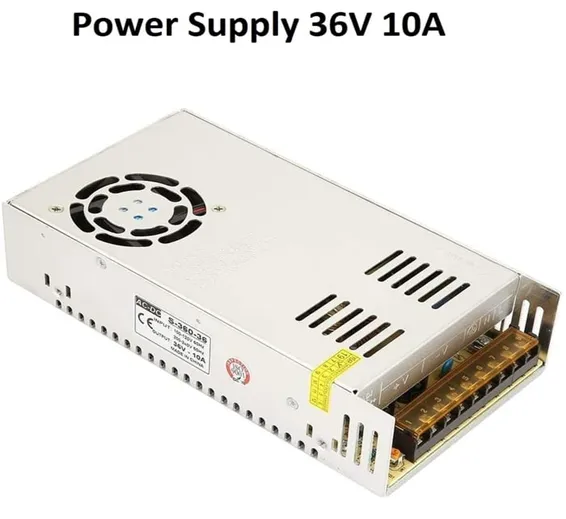 A 36v switched-mode power supply (SMPS) is an electronic circuit that converts power using switching devices that are turned on and off at high frequencies, and storage components such as inductors or capacitors to supply power when the switching device is in its non-conduction state. A switched-mode power supply is also known as a switch-mode power supply or switching-mode power supply. The 36V 10A SMPS Adapter is made of High-temperature resistant copper enameled wire and adopts a double winding U-shaped iron core, which has a strong anti-interference ability and high stability.10A Switching Power supply For
LED Lighting
has High intelligent protection with short circuit protection, overload protection, and overvoltage protection

Features Of 5V Switching Dc Power Supply:

High working efficiency and low operating temperature.
Soft-start can reduce the impact of effective AC input.
Compact size, lightweight.
Wide input voltage range.
Install with EMI filter, minimum wave.
Low output ripple and noise
Protection function: Overload protection, Short circuit protection
It recovers automatically after protection
The device is great for Home Appliances as a switching power supply.

Specifications Of 36V 360W SMPS For LED lighting:

Input voltage: 110V-220V AC
Output voltage: 36V DC
Output current: 10A
Output power: 360W
Protection function: Overload protection, Short circuit protection
Security Certification: CE, ROHS, FCC
Working Humidity and Temperature: -15 degrees Celsius - +70 degrees Celsius;20% - 90% RH
Product dimension: 215*115*50mm / 8.5*4.5*2in

Applications Of LED SMPS 36v 360w :

LED Lighting
RGB LED Strip
SMD
CCTV Cameras
Street Light
Lawn Lamp
Advertising Article Screen

Note:

The power supply is 100% full, but some power is lost when wiring. Therefore, it is recommended to use 80-85% of the power.
The input voltage should be within the specified working range.
It is strictly forbidden to use in a high-temperature environment, the power supply should have good heat dissipation space and environment.
Do not install the power supply on flammable materials, keep away from gas stations or places where smoking is prohibited.

Package Include:

1x Switching Power Supply SMPS 36V 360W 10A

Buy Switching Mode Power Supply SMPS 36V 10A 360W adapter for LED lighting at Pakistan's Best Online Store at cheap price. Here you get a wide range of SMPS. We Deliver in Gujranwala, Karachi, Lahore, Islamabad, Rawalpindi, Multan, Quetta, Faisalabad and all Over Pakistan.