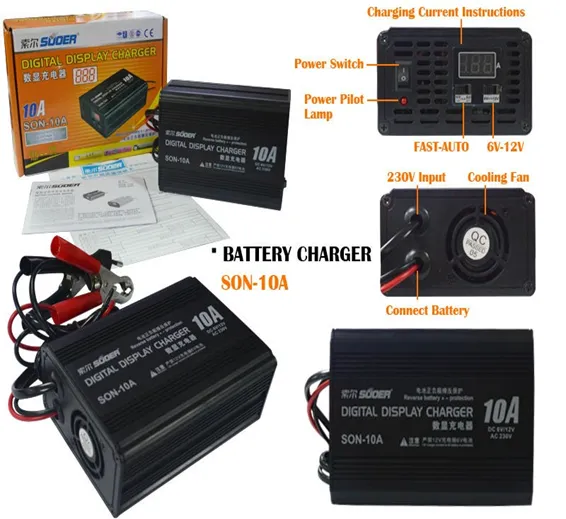 Suoer 10A 6V 12V Automatic Adaptive Digital Display Fast Battery Charger : Digital Display SON-10A 220v Battery charger has learn the advanced experience and technology to develop a new generation of high-tech products. For 12v and 6v Battery, With reverse protection circuit, anti short circuit, overcharge battery prevention function, using intelligent pulse three-phase charging mode. Tthe first choice for car and motorcycle battery charger.
Features:
The power will turned off automatically when the battery is fully charged.

Three-phase charging mode

that makes the battery charge safely and quickly.
Reverse Battery protection and short circuit protection.
It can detect presence ofvbattery, and will shut down automatically if there is none.
No spark appears when connecting, extremely safe.
Selectable output voltage 12v and 6v
Technical parameters
Input voltage: 220Vac.
The output voltage: 12Vdc or 6Vdc (switchable).
Rated output current: 10 A
The working frequency: 50 to 65hz
Unit Size:125*90*50mm
Three-phase charging mode
Constant current mode:When the voltage of the battery is lower than the value set by the charger,the charger will work under the constant current mode and supply the constant current for the battery.
Constant voltage mode:Using the pulse width modulation(PWM) tech to control the charging current and output voltage of the charger which ensures the battery is fully charged and avoids over charging.
Floating charge mode:When the voltage of the battery is approaching the value of the constant voltage mode,and the current will cut down to the given current gradually,that means the battery power is full, then the pilot lamp will turn green and the fan will stop working.The charger will turn the mode into floating charge mode automatically.At this moment,the battery can be stopped charging or keep on floating charge for half an hour.