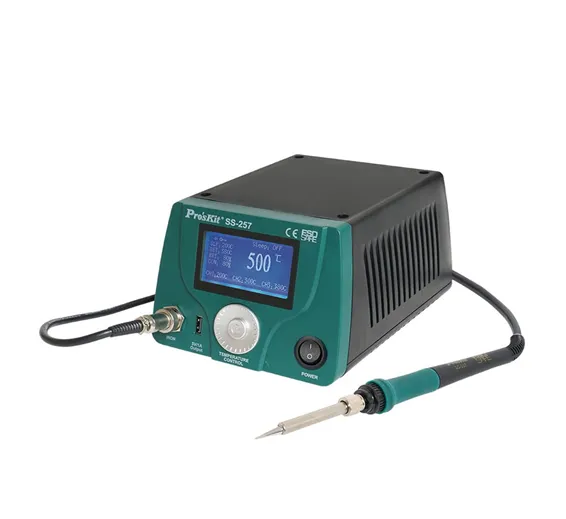 Soldering Tools
SS-257 75W Soldering Station Intelligent BGA Temperature Controller By Proskit
SKU: RAWLIXSS-
Pro'sKit SS-257H LCD Digital Soldering Station with Intelligent Temperature controller for your precise soldering applications. Its designed by a Proskit company which is a best-known instrument and tools manufacturing company.
Features Of SS-257 75W Soldering Station:
Microprocessor controlled features the best performance, accurately temperature control.
High-quality heating element, recovery fast
It comes with a high-end quad-wire heating element for fast heat recovery.
Large LCD display with shuffle knob design
Large screen with backlight, LCD contrast and brightness are adjustable.
Designed with function manual and shuffle knob for easy setting, more convenient and user friendly.
3data memories
Store and recall frequently used temperature values.
USB port output
Built-in DC 5V/1A USB port for power supply.
Smart functions
Auto sleep and wake up function, auto power-off, system lock, tip calibration, and low consumption.
Technical Specifications:
Model No. SS-257H Input voltage 220~240V 50Hz Control system Microprocessor-controlled Power consumption 75W Display LCD 74x40mm, 256x128 dot. backlight Temperature range 30~500°C±10°C(86~932°F±50°F) Temperature calibration ±0~200°C(32~392°F) Temperature stability ±2oC/±36°F (no load) Heating element High end quad-wire Heater Plug H Sleep mode OFF, 1~360min. adjustment Temperature of sleep mode 30~400°C/86~752°F Auto power off OFF/1~360min adjustable
USB port output
DC 5V/1A Memory 3 sets Tip-to-Ground resistance / potential ≤ 2 Ω / ≤ 2 mV Size 185×120×94 mm Weight 2.36 Kg
SKU:

RAWLIXSS-

/
Category: Tools
/