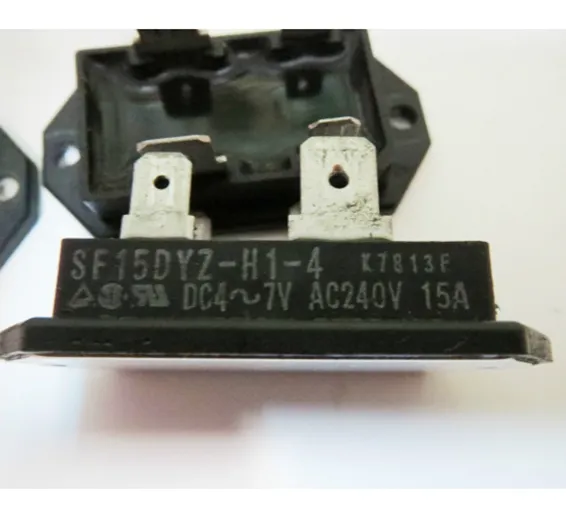 A solid-state relay (SSR) is just what it sounds like; an IC that acts like a mechanical relay. They allow you to control high-voltage AC loads from lower voltage DC control circuitry. They accomplish this by using infrared light as the 'contact,' a solid-state relay is really just an IR LED and a photometric sealed up into a little box. Compares with the traditional mechanical relay, the Solid State Relay (SSR) has many advantages: it has a longer life, with a much higher turn on/off speed and no noise. Besides, it also has better resistance to vibration and mechanical shock and better moisture-proof performance. MITSUBISHI 15A Solid State Relays Module is an industrial SSR Relay.
Specifications:
Model: MITSUBISHI SF15DYZ-H1-4 4-7V 15A
Input Voltage = 4 to 7v
Output Voltage = 240V
Output Current = 15A Maximum
Buy Solid State Relays SSR Module MITSUBISHI SF15DYZ 15A at Pakistan's Best Online Store at cheap price. Here you get the best SSR modules. We Deliver in Gujranwala, Karachi, Lahore, Islamabad, Rawalpindi, Multan, Quetta, Faisalabad and all Over Pakistan
Package Include:
1x solid-state relays module MITSUBISHI SF15DYZ-H1-4 4-7V 15A
Excellent service with reasonable price.