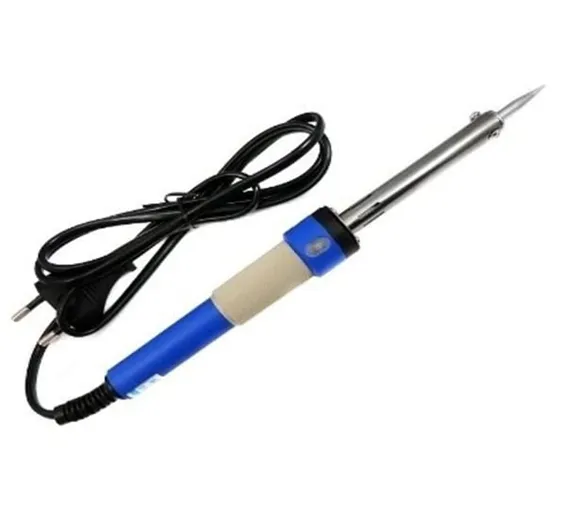 A soldering iron SE940 is a hand tool used in soldering. Iron Rod supplies heat to melt solder so that it can flow into the joint between two workpieces 40W 220-240V lead-free soldering iron, quick heating, and thermostatic, perfect for personal soldering. High-performance consumer soldering irons deliver comfort and flexibility. A round, soft-grip, non-slip handle design helps relax the hand during extended use. The round handle easily provides a mechanism to roll and position the tip for application needs.
Features Of High-Performance 40W soldering Iron Rod:
Soldering iron 220V.
High efficiency, fast start.
Internal heating type
Lightweight, fast heat with insulated polymer handle
Iron plated tip and stainless steel construction offer longer life
nickel-chromium heating element which can heat rapidly
the lead-free long-life iron tip
It is easy, fast and convenient to replace the iron tip
CE, CTA, RoHS approved.
Specifications Of Electric Iron Rod Solder SE930:
Brand Name: SUOER
Model Number: SE-940
Input Voltage: 220-240V
Output Temperature: 100°C~400°C
Temperature Stability: Good
Output Power: 40W
Dimensions: 635*380*330mm
Certification: CE/RoHs
Package Include:
Best online shopping website for soldering iron rod 40W SUOER SE940 Pencil Iron Rod with a fine Bit/Tip in cheap price in Lahore Islamabad Karachi Faislabad Quetta Rawalpindi Multan Sukkur Peshawar Gujranwala Sialkot and all over Pakistan