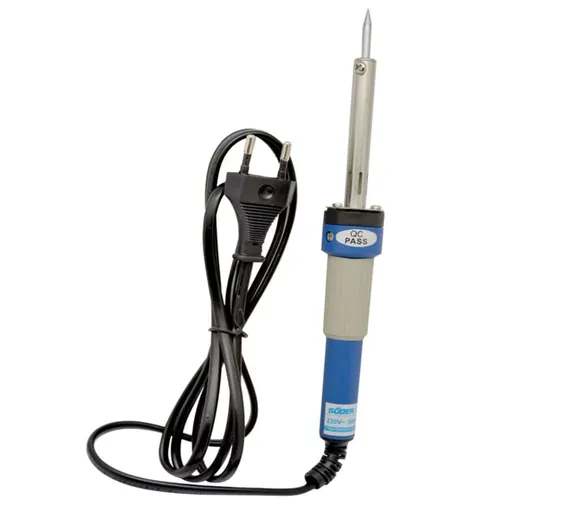 A soldering iron SE930 is a hand tool used in soldering. Iron Rod supplies heat to melt solder so that it can flow into the joint between two workpieces. Professional Soldering Tool is great for lead-free soldering semiconductors. Automatic constant Temperature welder adopts the latest integrated automatic temperature controller which sets the temperature between 100-400 deg Celcius. 30W Solder has a comfortable handle and beautiful appearance design. It has an excellent function to protect the circuit board and improve the reliability of the welding board during the welding process.
Features Of 30W soldering Iron Rod:
Soldering iron 220V.
High efficiency, fast start.
soldering temperature very stably.
Good material ensures product safety and long life.
nickel-chromium heating element which can heat rapidly
the lead-free long-life iron tip
It is easy, fast and convenient to replace the iron tip
CE, CTA, RoHS approved.
Specifications Of Electric Iron Rod Solder SE930:
Brand Name: SUOER
Model Number: SE-930
Input Voltage: 220-240V
Output Temperature: 100°C~400°C
Temperature Stability: Good
Output Power: 30W
Dimensions: 635*380*330mm
Certification: CE/RoHs
Package Include:
Best online shopping website for soldering iron rod 30W SUOER SE930 Pencil Iron Rod with a fine Bit/Tip in cheap price in Lahore Islamabad Karachi Faislabad Quetta Rawalpindi Multan Sukkur Peshawar Gujranwala Sialkot and all over Pakistan