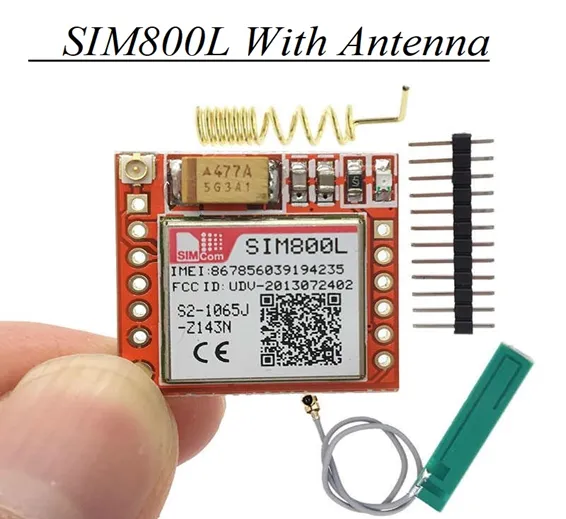 SKU: B22, D38,IMP10,Th5,KRT,04
The SIM800L is available in Pakistan. Sim800L is a cheap and portable GSM module breakout board with all the capabilities of the larger SIM900 gsm module and shields. Smallest SIM800L GPRS GSM Module has a microSIM card core board quad-band TTL serial port. This is a GPRS GSM module based on the SIMCom SIM800L, which is a GSM GRPS Quad-Band module. You can add voice, text, SMS, and data to your project with this module. Sim800L is an ideal solution for M2M applications, suitable for automotive, industrial and PDA, personal tracking, electricity environment detection, wireless POS, smart metering, and other M2M applications, to provide comprehensive GSM / GPRS text messaging, voice and data transmission services.
Here is an image of the product with external antenna
Tutorial:
https://lastminuteengineers.com/sim800l-gsm-module-arduino-tutorial/
SPECIFICATION Of SIM800L GSM Module.
Quad-band 850/900/1800/1900MHz
GPRS mobile station class B
Supports Real-Time Clock
Supply voltage range 3.4V ~ 4.4V
Supports A-GPS
Supports 3.0V to 5.0V logic level
Micro SIM Card
Compact size 23mm x 35mm x 5.6mm
Low power consumption, 1mA in sleep mode
GPRS multi-slot class12 connectivity: max. 85.6kbps (down-load/up-load)
Controlled by AT Command (3GPP TS 27.007, 27.005 and SIMCOM enhanced AT Commands).
DOCUMENTS
Datasheet
AT Command Manual
TCP-
IP Application Note
IP Application Note
SSL Application Note
Email Application Note
Software library
TUTORIALS
http://www.ayomaonline.com/programming/quickstart-sim800-sim800l-with-arduino/
http://www.seeedstudio.com/recipe/358-the-ultimate-child-tracker.html
Package Included:
1 x SIM800L Quad-band GPRS GSM Module
Note:
Registration Tutorial By PTA is here (CLICK ME)
This device is not registered with PTA so You need to register this device before using it.
You should read the IMEI number using AT commands and use this IMEI number for GSM registration.
Don't follow the printed number on GSM.
Registration charges are not added to this product price.
Don't Buy buy this product if you can not follow the above instructions by yourself.
Here is the registration process of the GSM
Get GSM Module Sim800l at low prices in Karachi, Lahore, Islamabad, Rawalpindi, Peshawar, Multan, Quetta, Faisalabad, Khuzdar, Abbottabad, Taxila, Rahim Yar Khan, Mardan, Jamshoro, Sialkot, Nawabshah, Nowshera, Swabi, Kohat and all over Pakistan. Best Quality Raspberry GSM Module Sim800l How to register: