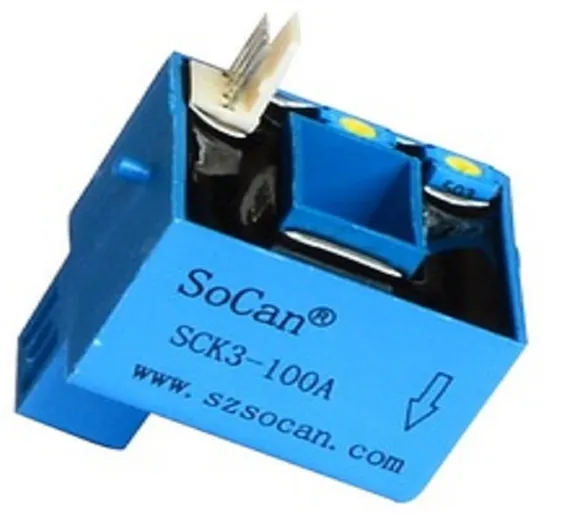 Sensors
SCK3 -100A 100Amp Hall Current Sensor
SKU: TMD,Th,KRT
SCK3 100A 100Amp Hall Current Sensor is a new generation open loop current sensor based on Hall effect principle, it could accurately measure DC, AC and pulse current and other various irregular waveforms current in electrical isolation conditions. Perforations in the form of a square hole type, use for copper connections, it is widely used in inverter, all kinds of power supply, DC panel, Welding machines and other equipments. Potting by imported resin, product has excellent thermal conductivity and scalability. High-performance core result minimal residual magnetism, all electronic is imported components assembled. Excellent circuit design, all products is processed via 48 hours room temperature aging and eight hours high temperature aging, and by rigorous factory testing, it has excellent characteristics with long-term stable operation even in harsh working conditions. It is deeply trusted and recognized by domestic and foreign customers.
Features and Specifications
Principle: Open Loop
Nominal RMS Range: 100A
Measuring Range: 300AT
Supply Voltage: ±4V or ±5V
Working Voltage: ±12V~15V (5%)
Output: Analog Sensor
Accuracy: ±1%
Linearity: class 1 (±1%)
Ipn 50A, 100A, 200A, 300A, 400A, 500A, 600A
Measure range about 3*ipn
Weight: 58g
Square perforation, mainly measure wire conductor current.
Advantages: Excellent accuracy, low power consumption, high liability and good current overload capability.
Package includes
1x SCK3 -100A Hall Current Sensor