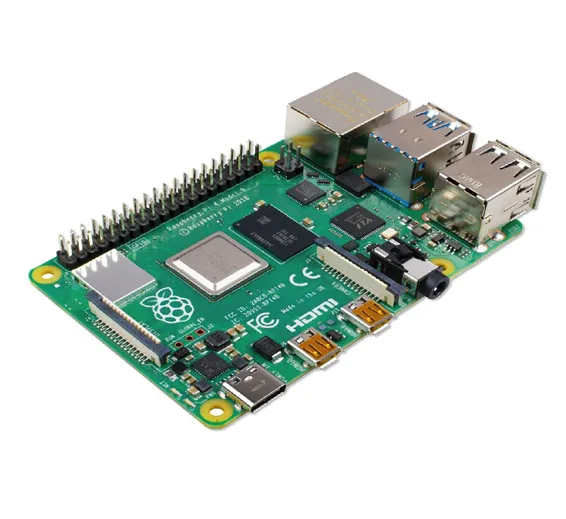 Raspberry Pi 4 Model B is the latest product in the popular Raspberry Pi range of computers. It offers ground-breaking increases in processor speed, multimedia performance, memory, and connectivity compared to the prior-generation Raspberry Pi 3 Model B+
What's New in Raspberry Pi 4 B?
Quad-Core 64-bit Broadcom 2711, Cortex A72 Processor
WLAN 802.11 b/g/n/ac (2,4 + 5,0 GHz)
LAN RJ45 10/100/1000 Mbit (Gigabit LAN over USB 3.0)
Operating Power 5V@3A via USB Type-C port
Dual-Display Micro HDMI Ports which supports H 265 Decode for 4K Video @60p
You might be curious about what's new and what's the same with the Raspberry Pi 4 Model B? So first of all here's the comparison chart with highlighted points where you will get everything you need to know at a glance
Specifications of raspberry pi 4 4GB:
Model: Raspberry Pi 4 Model-B
Processor: Broadcom BCM2711, quad-core Cortex-A72 (ARM v8) 64-bit SoC @ 1.5GHz
RAM Memory: 4GB LPDDR4 SDRAM, 2 × USB 2.0 Ports, 2 × USB 3.0 Ports
Connectivity: 2.4 GHz and 5.0 GHz IEEE 802.11b/g/n/ac wireless LAN, BLE Gigabit Ethernet, Bluetooth 5.0, 5V 3A DC via GPIO header
Operating Power: 5V 3A DC via USB Type-C Connector, Power Over Ethernet (PoE)–Enabled (requires separate PoE HAT)
GPIO: Standard 40-pin GPIO Header, H.264 (1080p60 decode, 1080p30 encode)
Multimedia: H.265 (4Kp60 decode), OpenGL ES, 3.0 Graphics, 2 × micro HDMI ports (up to 4Kp60 supported)
Video and Sound: 2-Lane MIPI CSI Camera Port, 2-Lane MIPI DSI Display Port, 4-Pole Stereo Audio and Composite Video Port
Clock Speed: 1.5 GHz
Micro-SD Card Slot: Yes (FAT32 format), support maximum 32G Micro SD Card Memory Features
Operating Temperature Range: 0ºC to 50ºC
Dimensions (mm) LxWxH: 85 x 56 x 19
Weight (gm): 52g
Shipment Weight: 0.08 kg
Shipment Dimensions: 12 x 8 x 5 cm
Features OF Raspberry Pi 4:
With one of latest Broadcom 2711, Quad-Core Cortex A72 (ARM V8-A) 64-bit SoC Clocked at 1.5GHz processor improved power consumptions and thermals on the Pi 4+Bmeans that the CPU on the BCM2837 SoC can now run at 1.5GHz, a 20% increase on the previous Pi 3 model (which ran at 1.2GHz).
Hardware upgrade on Pi4 developed for faster performance e with all new 1GB/2GB and 4GB LPDDR4 SDRAM variants.
Video performance on Pi 4 B is also upgraded with dual-display support at resolutions up to 4K via a pair of micro-HDMI ports, hardware video decode at up to 4Kp60 which supports H 265 Decode (4Kp60), H.264, and MPEG-4 decode (1080p60).
Faster wireless:
A significant change on the Pi 4 B compared to the previous Pi 3 models is the inclusion of a new faster, dual-band wireless chip with 802.11 b/g/n/ac wireless LAN.
The dual-band 2.4GHz and 5GHz wireless LAN enable faster networking with less interference and the new PCB antenna technology allows better reception.
Latest 5.0 Bluetooth allows you to use a wireless keyboard/trackpad with more range than before without extra dongles, keeping things nice and tidy.
Enhanced Ethernet Connectivity:
The Pi 4 B has significantly faster-wired networking with USB 3.0 technology, thanks to an upgraded USB/LAN chip, and you should see speeds that are 10x faster than on previous models of the Pi.
The GPIO header remains the same, with 40 pins, fully backward-compatible with previous boards as on the previous three models of Pi. However, it should be noted that the new PoE header pins may contact components on the underside of some HATs, like Rainbow HAT. Some standoffs will prevent any mischief from occurring though!
Package Includes:
1 x Raspberry Pi 4 Model-B with 4 GB RAM
Get Raspberry Pi 4 Model B with 4GB RAM in low price in Karachi, Lahore, Islamabad, Rawalpindi, Peshawar and all over Pakistan. Best Quality Raspberry Pi 4 Model B with 4GB RAM