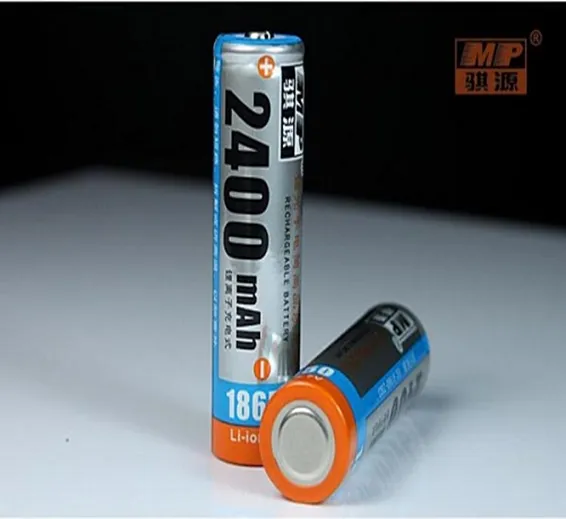 This Mp-18650 2400mAh 3.7V Lithium Ion Battery is a high capacity battery. Lithium Ion Battery uses for power bank, bright flashlight, headlights, toys,ecigs, mobile medical equipment, household electrical appliances and for other equipment, for daily use. Lithium battery technology has taken many years to develop. It offers distinct advantages over other older rechargeable battery technologies such as Nickel-cadmium and Nickel Metal Hydride. Despite the advantages of Lithium-ion it has taken years to perfect and enable it to reach a maturity level where it could be widely used. Now it is used in many areas and its use has enabled may technologies such as mobile phones, laptops and other items of everyday use to move forward.
Features of Mp-18650 2400mAh 3.7V Lithium Ion Battery:
100% Brand new and high quality!
Rechargeable battery with re-discharging protection circuit.
Low reoccurring operation cist, Short -circuit and over-current protection.
Safe and environmental friendly.
Perfect for flashlight or headlamp.
Keep in a dry and cool place.
Specifications of Mp-18650 2400mAh 3.7V Lithium Ion Battery:
Voltage: 3.7V
Storage Voltage: 3.7-3.9V
Charging Cut-off Voltage: 4.2V
Discharge Cut-off Voltage: 3.0V
Capacity: 2400mAh
Norminal Capacity: 2200mAh
Size: 18.0*65.0mm
Weight: 46g
Protected: NO
Battery top: Flat top
Max Constant Charging Current: 2200mA(1C)
Max Constant Discharging Current: 4400mA(2C)
Package Includes:
1 x Mp-18650 2400mAh 3.7V Lithium Ion Battery