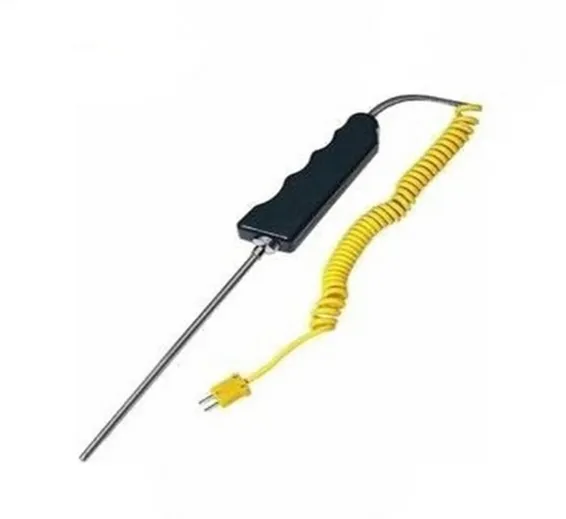 Sensors
K Type Temperature Sensor Surface Thermocouple Probe WRNM-102
SKU: TMD,Th,KRT
K type Surface Thermocouple Probe WRNM-102 is widely used in textile printing and dyeing, paper making, plastic, rubber, ceramic, aluminium alloy, grain. This WRNM102 probe test lead can test various shapes of the solid medium temperature surface, liquid, gas, rubber, the temperature inside the barn. K type probe, using range is wide, without being limited by the shape of an object's surface, easy to carry, especially processing field, flow measuring temperature.
Features Of K Type Temperature Sensor Probe WRNM-102:
Powerful can be arbitrarily manipulated, fuse protection circuit so that multimeter lines are not easy to burn.
Unit symbol display. So that measurement more accurate, with instructions, easy to operate.
Applicable to a variety of occasions. Electronic laboratories, electronics factories, vehicle maintenance, circuit survey, home use.
High-definition LCD screen, writing clear, even at night, you can rest assured that use.
This product does not contain the battery, when used in the need to shift must be shut down, can not live shift.
Specifications Of K Type Electric Thermocouple WRNM102:
Model Number: WRNM-102
Design Feature: Straight handle/Surface probe(The curvature of the pipeline is convenient to a special angle.
Hydrothermal Reaction Time: Type: K
Lead length: 2000mm
Handle Material: ABS
Applications:
It is devoted to measuring the surface temperature of refrigeration equipment or products (Such as measurement mould, casting mould, flat glass vessels, aluminium manufacturing, bearing and other solid surface temperature).
Package Includes:
1 x K Type Temperature Sensor Surface Thermocouple Probe WRNM-102
Best Online Shopping website for K Type Temperature Sensor Surface Thermocouple Probe WRNM-102 Electric Thermocouple High-temperature Thermocouple K Type Temperature Sensor in cheap price in Karachi, Lahore, Islamabad, Rawalpindi, Sukkur, Peshawar, Multan, Quetta, Faisalabad and all over Pakistan.