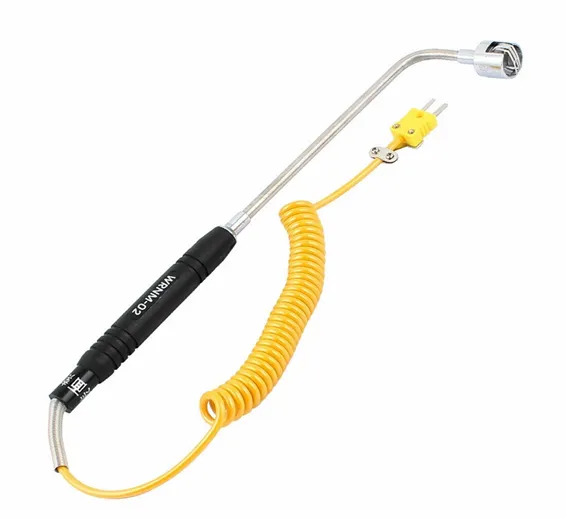 Sensors
K Type Temperature Sensor Surface Thermocouple Probe WRNM-02
SKU: TMD,Th,KRT
This K-Type Thermocouple Probe WRNM-02 is widely used in textile printing and dyeing, paper, plastics, rubber, ceramics, aluminium, barn and other departments. This WRNM02 electric thermocouple can test various shapes of solid dielectric surface temperature, measure liquid, gas, rubber, the temperature inside the barn, a wide range, from the surface shape restrictions. This k type thermocouple testing is easy to carry, especially the processing site, the flow of work to measure the temperature
Features Of WRNM-02 Curved Head Thermocouple Probe Test Lead:
K type connector, -50-500C temperature range.
This thermocouple is designed with fork terminals. Curved probe design can be used in some special places.
The working principle of the thermocouple is because of the change of the electromotive force of sensor element following the change of temperature.
Specially designed for digital thermometer which has k type sensor, suitable for measuring liquid or others.
Specifications Of Best K Type Temperature Surface Thermocouple WRNM02:
Material: Plastic, Metal
Net Weight: 108g
Main Color: Yellow, Black, Silver Tone
Type: K Type
Probe Length: 140mm/ 5.5"
Handle Size: 120 x 16mm/ 4.7" x 0.6"(L*Dia)
Yellow Cable Length: 200cm/6.6ft
Temperature Measurement Range: -50 to 500 Celsius
Curved Head Size: 43 x 20mm/ 1.7" x 0.8"(L*Dia)
Probe Diameter: 6mm/ 0.24"
Package Includes:
1 x WRNM-02 -50-500 K Type Curved Head Temperature Sensor Surface Thermocouple Probe
Best Online Shopping website for K Type Temperature Sensor Surface Thermocouple Probe WRNM-02 Electric Thermocouple High-temperature Thermocouple K Type Temperature Sensor in cheap price in Karachi, Lahore, Islamabad, Rawalpindi, Sukkur, Peshawar, Multan, Quetta, Faisalabad and all over Pakistan.