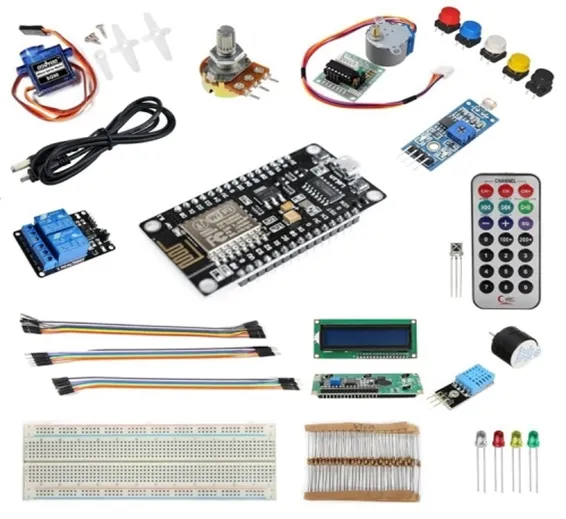 The NodeMCU is a wonderful development tool for prototyping, creating, and building IoT (Internet of Things) and any random electronic project that requires a microcontroller and/or WiFi access, this IoT kit can even be used in place of Arduino in many cases. ESP8266 Arduino Wifi module is a highly integrated chip designed for the needs of a new connected world. This ESP WiFi offers a complete and self-contained Wi-Fi networking solution, allowing it to either host the application or to offload all Wi-Fi networking functions from another application processor.
ESP8266, the onboard SoC, has powerful on-board processing and storage capabilities that allow it to be integrated with the sensors and other application-specific devices through its GPIOs with minimal development up-front and minimal loading during run time. Its high degree of on-chip integration allows for minimal external circuitry, and the entire solution, including the front-end module, is designed to occupy minimal PCB board area.
Quantity Details Of IoT Starter Kit Nodemcu Starter Kit:
1x ESP8266 WI-FI Nodemcu board
1x Micro USB cable
1x I2C 1602 LCD Display Screen
1x SG90 Servo Engine
1x DHT11 Temp & Humi Sensor module
1x 2 Relay module
1x Stepper motors bridge
3x Potentiometer (10 k variable resistor)
1x Buzzer
1x LDR Module 4/3 PIN
1x Infrared receiver (VS1838B)
1x Infrared remote control
24x LED (6x white, 6X red, 6x Yellow, 6X green)
5x Push Buttons Caps
65x Resistors (20X 470ohm, 20x 10k, 20x 1Kohm, 1Mohm)
1x Jump pins wire M to M
1x Jump pins M to F
1x Jump pins F to F
1x Breadboard MB102
1x Plastic box
Best Online Shopping website for Best IoT Nodemcu Starter Kit IoT Project Development Kit at a cheap price in Karachi, Lahore, Islamabad, Rawalpindi, Sukkur, Peshawar, Multan, Quetta, Faisalabad and all over Pakistan.