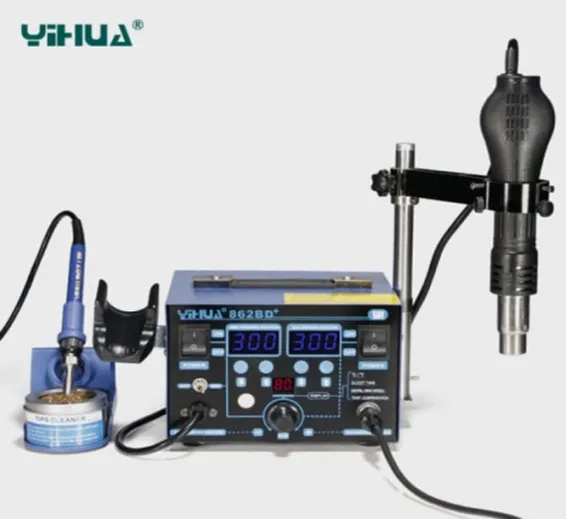 Soldering Tools
Hot Air Diaphragm Pump Soldering SMD Rework Station YIHUA YH862BD+
SKU: TMD,Th5,KRT
High power welding station YIHUA 862BD+ hot air gun with imported heater used to repair and solder the phone has Celsius/Fahrenheit Display Temperature Function to satisfy market demand in different regions. Yihua SMD Rework Station now features a Three LED tubes display and you can easily change the LCD digital readouts back and forth "Centigrade to Fahrenheit" for the soldering iron and hot air temperatures with the push of a button. Heat Gun Welding Station features Temperature Control Technology which the program will cycle every 20 milliseconds to detect the actual temperature of the soldering iron's heating element, quickly correct it with a rapid return to the correct set temperature. The air gun automatic function is a safety measure that ensures the heat is automatically cut off when the air gun is in its holder. Dual blue LED digital displays to show precision temperature for hot air gun & soldering iron and one blue digital display to show airflow.
Features Of Yh-862bd+ Rework Station with Air Gun Bracket:
Zilog Dual-Core Microcomputer Processor
PID Temperature Control Technology
Celsius/Fahrenheit Display Temperature function
Intelligence cool airflow features long service life of the machine and safe personal operation
Stainless steel holder for placing the hot air gun
Plastic stand for keeping the iron from flammable materials
ESD design of soldering iron to protect sensitive components
High-quality resistance for durable use
Specification Of YIHUA 862BD+ Heat Gun And Soldering Iron Welding Station:
Power consumption: 720W
Measurement: 124*187*249mm
Airflow type: brushless fan gentle wind
Airflow: ≤120L/min
Temperature range of gun: 100°C-480°C
Temperature Stability of gun: ±1°C
Display Type: Digital display
Handle length of gun: ≥100CM
Temperature range of Iron rod: 200°C-480°C
Temperature Stability Of Iron rod: ±1°C
Tip of ground voltage:<2mV
Tip ground impedance: <2 ohm
Handle length of Iron rod: ≥100CM
Iron heater material: Imported high-power heater
Package Include:
1x 2in1 Soldering Station Unit
1x Hot Air Gun
1x Hot Iron
1x Stand
1x Holder
1x Sponge
3x Nozzles
1x Manual
Best Online Shopping website for Hot Air Pump/Gun And Soldering Iron SMD Rework Station YIHUA YH862BD+ 2in1 Lead-free Soldering Welding Station in cheap price in Karachi, Lahore, Islamabad, Rawalpindi, Sukkur, Peshawar, Multan, Quetta, Faisalabad and all over Pakistan.