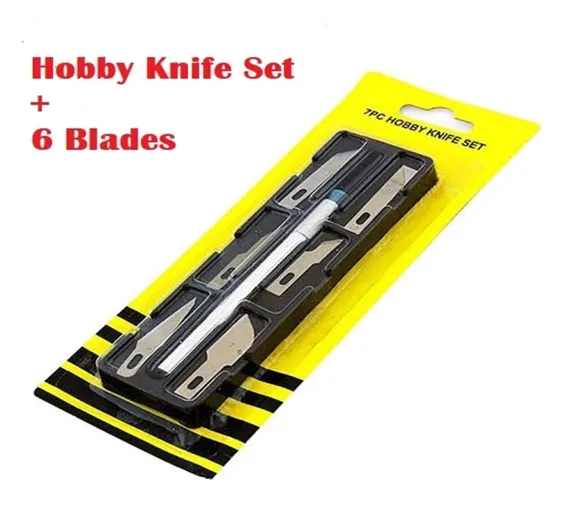 7pc Hobby Knife Set, complete your DIY projects with ease. 7pc Hobby Knife Set, this comprehensive set is ideal for cutting, scratching, etching, layout and model making. The set includes seven interchangeable hardened blades and a blade handle, with each blade being specially designed for different materials and needs. The durable and long-lasting knife set is perfect for completing your DIY toolbox, finishing craft projects quickly and easily. This set has different features like very sharp, very easy handy grip, perfect for etching, scribing, retouching stencils, layouts etc.
We have also 6pc Hobby Knife Set, Pocket Paper Cutter, V-Shaped Bit Cutter etc.
Features of 7pc Hobby Knife Set:
Very sharp and very handy.
Perfect for etching, scribing, retouching stencils, layouts
You can make a different article of Thermocol and Cardboard.
You can make a delicate decoration with the help of 13Type of thin Sharp blades.
by your own for Ganpati, Navaratri, Birthday, wedding etc.
You can take these articles for your Children to nurtures their hobbies (Above 8 Years Old)
This is very handy to make Thermocol Building, Bungalow, Chariot, Ship, Airport, Airship etc.
Specifications of 7pc Hobby Knife Set:
6pcs knife blade selection handles models, crafts etc
1pcs Easy-to-grip aluminium handle
Material: Iron, Plastic
Storage Tray: 5x1-1/2x1/4 Inch
Set Weighs: 0.8 Ounces
Package Includes:
1 x 7pc Hobby Knife Set
Best Online Shopping website for 7pc Hobby Knife Set at cheap price in Karachi, Lahore, Islamabad, Rawalpindi, Sukkur, Peshawar, Multan, Quetta, Faisalabad and all over Pakistan.