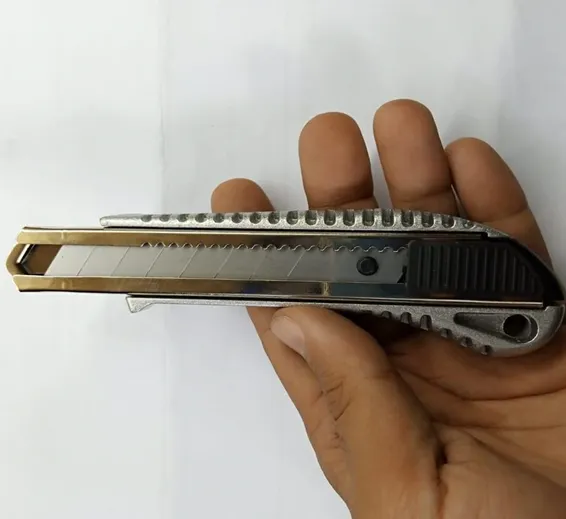 Utility Knife Cutter With Auto Lock complete your DIY projects with ease. This best blade cutter is ideal for cutting, scratching, etching, layout and model making. The durable and long-lasting knife is perfect for completing your DIY toolbox, finishing craft projects quickly and easily. This high-quality utility cutter has different features like very sharp, very easy handy grip, perfect for etching, scribing, retouching stencils, layouts etc.
Features & Specifications Of Best High-Quality Utility Knife:
Ready to use, cut and toss or keep some around as a spare utility knife in your garage, tool kit, home and office.
18mm bladed is ideal for thicker cuts. Use for commercial or industrial applications like thicker paper, tape, plastic, cardboard, balsa, basswood, photos, coupons, cardstock, mat board, foam board, delicate fabrics, crafts, amazon, ups or post office packages.
Widely use in DIY, graphic artists/designers, students, hobbyists, office solutions, warehouse shipping, freight couriers, longshoreman.
Highly durable and efficient utility knife.
Grip comfortably and strongly to provide protection to your hands.
Multi-position slide blade provides adjustment according to your requirements.
Package Includes:
Best Online Shopping website for Utility Knife Cutter With Auto-Lock in cheap price in Karachi, Lahore, Islamabad, Rawalpindi, Sukkur, Peshawar, Multan, Quetta, Faisalabad and all over Pakistan.
SKU:

RAWLIXUti

/
Category: Tools
/