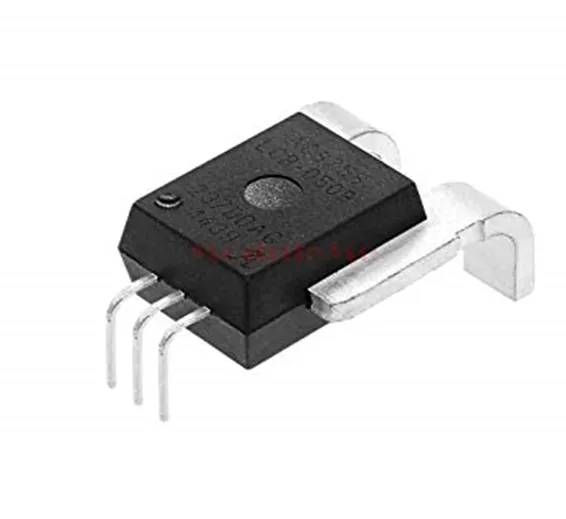 Sensors
Hall Effect Linear Current Sensor IC ACS758LCB-050B
SKU: RAWLIXHal
ACS758LCB-050B Hall-Effect-Based Linear Current Sensor IC provides economical and precise solutions for AC or DC current sensing. Typical applications include motor control, load detection and management, power supply and DC-to-DC converter control, inverter control, and overcurrent fault detection.
Features:
Integrated shield greatly reduces capacitive coupling from the current conductor to die due to high dV/dt signals, and prevents offset drift in high-side, high-voltage applications.
Total output error improvement through gain and offset trim over temperature.
Small package size, with easy mounting capability.
Monolithic Hall IC for high reliability.
Output voltage proportional to AC or DC currents.
Factory-trimmed for accuracy.
Extremely stable output offset voltage.
Nearly zero magnetic hystereses.
Specifications:
Maximum Supply Voltage
5.5 V
Minimum Supply Voltage
3 V
Operating Current
10 mA
Operating Temperature Range
–
4
0°C to 150°C Length (mm)
1
4
Width (mm)
19
Height (mm)
11
Weight (gm)
4
Shipment Weight
0.006 kg
Shipment Dimensions
2 × 2 × 2 cm
Buy Digital Hall Effect Linear Current Sensor IC ACS758LCB-050B at Pakistan's Best Online Shopping Store at cheap price. Here you get a wide range of current sensors. We Deliver in Gujranwala, Karachi, Lahore, Islamabad, Rawalpindi, Multan, Quetta, Faisalabad and all over Pakistan.
Package Include:
1x Hall Effect Linear Current Sensor IC ACS758LCB-050B
Tutorial to use Hall Effect Sensor ACS758LCB-050B: