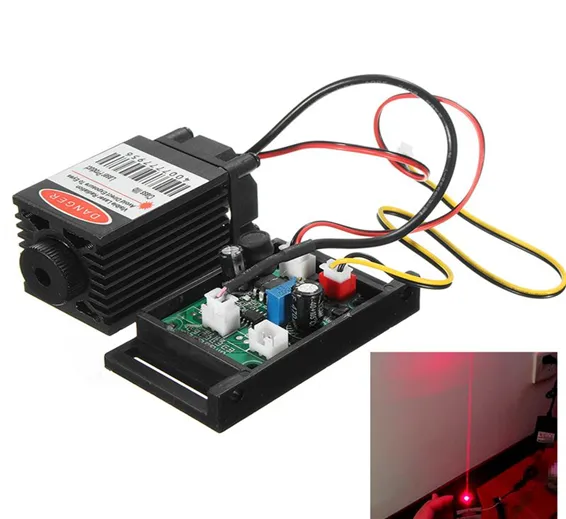 Laser Cutter
Focusable 500mw 405nm Infrared IR Laser Diode Dot Module 12v Adujstable TTL Fan
Availability:
Out Of Stock
SKU: D174,IMP0,Th0,KRT
This 405nm laser module with driver is an industrial electronic component and used for industrial testament, Lab etc. The laser module is and precise and sensitive optical instrument. Before carrying on some laser DIY activities, please read about the technical information first and protect your eyes before laser ray.
Specifications:
Laser head size: 65mm x 34mm x 34mm
Circuit Board size: 72mm x 40mm
Wavelength: 405nm
Output power: 500mW
Laser shape: Dot
Focusable: YES
Modulation frequency: Adjustable TTL modulation
Working: It Can be 24 hours continuous and stable work
Finish Color: Black
Case Material: Aluminum
The circuits control: constant current
Reverse polarity protection: with automatically identify the positive and negative
Operating voltage: DC = 12V
Warm-up time: None
Operating Temperature: -10 ℃ ~ +40 ℃
Storage temperature: -10 ℃ ~ +40 ℃
Package Included:
1 x Red Laser Module
Applications:
For the instrument set, construction, military, factory, health care (beauty instrument), Kam pseudo-security, stage lighting, tools, U disk, mobile phone, projection teaching flip pen, flashlight, temperature measurement (ranging) Locator, sweep instrument, marking instrument, level, toys, indoor and outdoor decoration and other products.