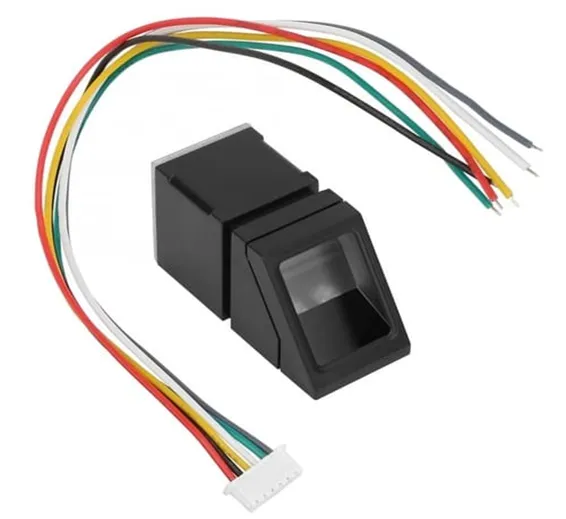 Sensors
Finger Print Sensor R307 Optical Finger Print Scanner Reader Module
SKU: SKU: B246,D 66,IMP20,Th20,KRT3+526,N112
R307 fingerprint Sensor module is a fingerprint sensor with a TTL UART interface. Professional optical technology, precise module manufacturing technic. Good image processing capabilities of Finger Print Reader can successfully capture an image up to resolution 500 dpi Finger detection function. The user can store the fingerprint data in the module and can configure it in 1:1 or 1: N mode for identifying the person. The FP module can directly interface with 3.3 or 5v Microcontroller. A level converter (like MAX232) is required for interfacing with PC serial port. R307 Fingerprint Scanner consists of high-speed DSP processor, high-performance fingerprint alignment algorithm, high-capacity FLASH chips, and other hardware and software composition, stable performance, simple structure, with fingerprint entry, image processing, fingerprint matching, search and template storage and other functions. The optical finger print detection device can be embedded into a variety of end products, such as access control, attendance, safety deposit box, car door locks.
Features Of Optical Fingerprint Module Reader Sensor Access Control Attendance Recognition Device:
Perfect function: independent fingerprint collection, fingerprint registration, fingerprint comparison (1: 1), and fingerprint search (1: N) function.
Small size: small size, no external DSP chip algorithm, has been integrated, easy to install, less fault.
Ultra-low power consumption: low power consumption of the product as a whole, suitable for low-power requirements of the occasion.
Anti-static ability: a strong anti-static ability, anti-static index reached 15KV above.
Application development is simple: developers can provide control instructions, self-fingerprint application product development, without the need for professional knowledge of fingerprinting.
Adjustable security level: suitable for different applications, security levels can be set by the user to adjust.
Finger touch-sensing signal output, low effective, sensing circuit standby current is very low, less than 5uA.
Integrated image collecting and algorithm chip together, ALL-in-One.
The fingerprint reader can conduct secondary development, can be embedded into a variety of end products.
Low power consumption, low cost, small size, excellent performance.
Professional optical technology, precise module manufacturing techniques.
Good image processing capabilities can successfully capture an image up to resolution 500 dpi
Specifications Of R307 Optical Fingerprint Reader Module Sensor Finger Detection Function:
Supply voltage: DC 4.2 ~ 6.0V
Working current: 50mA (typical)
Peak current: 80mA
Fingerprint image input time: <0.3 seconds
Window area: 14x18 mm
Comparison method: (1: 1)
Search method: (1: N)
Characteristic file: 256 bytes
Template file: 512 bytes
Storage capacity: 1000 pieces
Security Level: Five (from low to high: 1,2,3,4,5)
Fake rate (FAR): <0.001%
Refusal rate (FRR): <1.0%
Search time: <1.0 seconds (1: 1000 hours, mean value)
Host interface: UART, USB1.1
Communication baud rate (UART): (9600xN) bps Where N = 1 ~ 12 (default N = 6, ie 57600bps)
Working environment: Temperature: -20 ℃ - +40 ℃
Relative humidity: 40% RH-85% RH (no condensation)
Overall Size: 4.5x2.4x2cm
Package Includes:
1 x R307 Optical Fingerprint Reader Sensor Module
1 x Connecting Cable(6-pin)
Best Online shopping website for Biometric Finger Print Scanner R307 Optical Finger Print Sensor Reader Module Finger Detection Function in cheap price in Lahore Islamabad Karachi Multan Quetta Sukkur Rawalpindi Sukkur Faislabad and all over Pakistan.