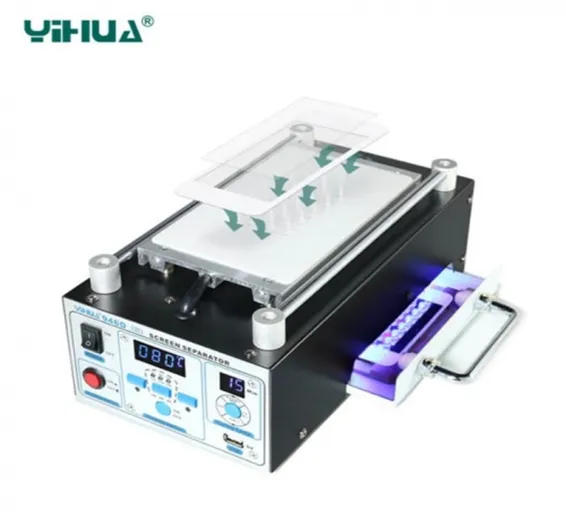 Soldering Tools
Digital Touch LCD Glass Screen Separator Machine YIHUA YH946D III
SKU: RAWLIXDig
YIHUA 946D-III LCD Touch Screen Glass Separator Machine Separator To Repair Split Separate Glass Touch Screen Machine. Glass Separator unit is digitally controlled by a Zilog Dual-Core Microcomputer Processor with PID programmable temperature control technology and implantation of the most high-end precision PID program. This gives rapid warming-up, very accurate temperature control, stability, durability, and reliability to this unit. Mobile screen Separator is Designed to meet the market needs of different regions, the temperature display function can be set to display either Celsius or Fahrenheit, depending on local practices. The surface area of the aluminum being relatively large, its temperature may vary slightly in response to large changes in ambient temperature. The double-sided internal SMT manufacturing process boasts clean craftsmanship. The signal flow is clear, and the machine is both stable and safe, further improving its performance and adaptability to various harsh environments.
Features Of Yuhai YH-946D-III Separator Glass Touch screen Digitizer:
With PID programmable temperature control technology and the highest precision PID input program, the temperature is both adjustable and stable while deviations are minimized.
The heated aluminum is smooth and flat, ensuring a uniform surface temperature.
Built-in vacuum, strong suction, low noise, long life.
It has a 5V 1A USB mobile phone charging interface, suitable for Apple, Samsung, Millet, Huawei, and other mobile phone charging.
With a UV curing UV lamp, do not worry about the phone screen glue that did not dry.
Celsius/Fahrenheit temperature display
Temperature correction feature
Specifications Of LCD Touch Screen Glass Separator Vacuum Pump Machine UV light:
Power: 370W
Temperature range: 50℃~120℃
Display: LED Display
Temperature stability: ±2℃(Static state)
Vacuum pump power: 12W
Vacuum pressure: 0.05MPa
Aluminum to ground resistance: <2Ω
Aluminum size: L200mm*W 110mm
Overall dimension: L1300*W160*H90mm ±3mm
UV curing lamp power: 12W
USB Output: 5V 1A
Operating temperature: 0~40℃/32 ℉~104 ℉
Storage humidity: 35%~45%
Package Include:
1X Screen Separator YH-946D-III
Best Online Shopping website for Digital LCD Glass Screen Separator Machine YIHUA YH946D III 5V 1A USB POWER SUPPLY & UV CURING LAMP in cheap price in Karachi, Lahore, Islamabad, Rawalpindi, Sukkur, Peshawar, Multan, Quetta, Faisalabad and all over Pakistan
SKU:

RAWLIXDig

/
Category: Tools
/
Great service and excellent support.
Abdul Wahab Khalid
- November 20, 2020
Abdullah
- March 26, 2021