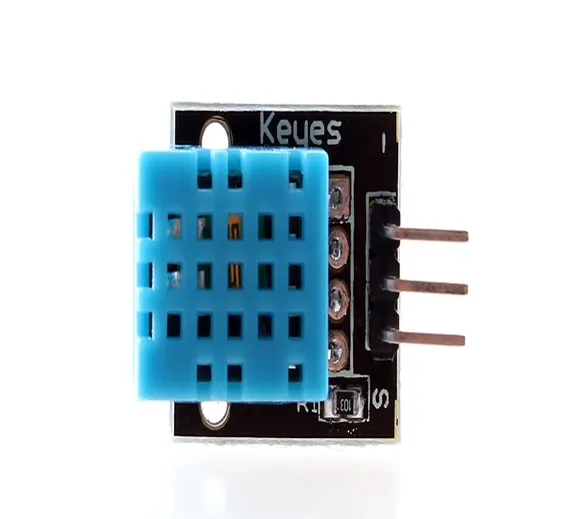 Sensors
DHT11 Temperature and Humidity Sensor Module
SKU: B88 ,D 117,IMP200,Th30,KRT522,N42
DHT11 or DHT 11 or DHT-11 temperature and humidity sensor is a digital temperature and humidity sensor. This DHT11 Digital Relative Humidity & Temperature Sensor Module is pre-calibrated with resistive sense technology coupled with NTC thermistor, for the precise reading of the relative Humidity and surrounding temperature DHT 11 break-out board is a very popular, low-cost sensor from Aosong, the breakout provides easy installation of the DHT11 sensor module.
The board is also equipped with high- performance 8-Bit microcontroller which is connected to the DHT11 sensor module. The output of the DHT11 is in the form of a digital signal on a single data pin. The sensing update frequency is to be measured at every 2sec (0.5Hz).
The complete arrangement makes the device an ideal sensing setup to be hooked up directly to any kind of microcontroller boards like Arduino's. The board is extra featured with onboard LED, a bypass capacitor between Vcc and Gnd and a pull-up resistor across the data line and Vcc.
The DHT-11 Digital Temperature And Humidity Sensor is a basic, ultra low-cost digital temperature and humidity sensor. It uses a capacitive humidity sensor and a thermistor to measure the surrounding air and spits out a digital signal on the data pin (no analogue input pins needed).
Its fairly simple to use, but requires careful timing to grab data. The only real downside of this sensor is you can only get new data from it once every 2 seconds, so in your code please use sensor reading interval at 2 seconds or more. Compared to the DHT22, this sensor is less precise, less accurate and works in a smaller range of temperature/humidity.
But despite its disadvantages over DHT22, it is a smaller and less expensive sensor for temperature and humidity measurement.
Applications:
HVAC, Testing and inspection equipment, Automotive, Datalogger, Consumer goods, Automatic control, Weather station, Home appliances, Humidity regulator, Medical, Dehumidifier, etc.
Features Of DHT11:
Low power consumption.
DHT11 sensor adopts
The module can detect the surrounding environment of the humidity and temperature
High reliability and excellent long-term stability
The output from the digital output
Has a fixed bolt hole and easy installation
Specifications Of DHT11 Sensor:
Humidity Measuring Range(%): 20 to 90
Temperature Measuring Range(°C): 0 to +50
Humidity Measurement Accuracy(%): ±5.0
Temperature Measurement Accuracy(°C): ±2.0
Response Time(s): <5
Supply Voltage (V): 5
Breadboard Size(mm): 19×17 (LxW)
Weight (gm): 0.6
Product Tutorial:
https://howtomechatronics.com/tutorials/arduino/dht11-dht22-sensors-temperature-and-humidity-tutorial-using-arduino/
Package Includes In DHT11 :
1 X DHT11 Digital Relative Humidity & Temperature Sensor Module.
Buy DTH11 temperature and humidity Arduino sensor at Pakistan's Best Online Shopping Store. Wide range of DTH11 temperature and humidity Arduino sensor. We deliver in Karachi, Lahore, Islamabad, Rawalpindi, Peshawar, Quetta, Multan and all over Pakistan