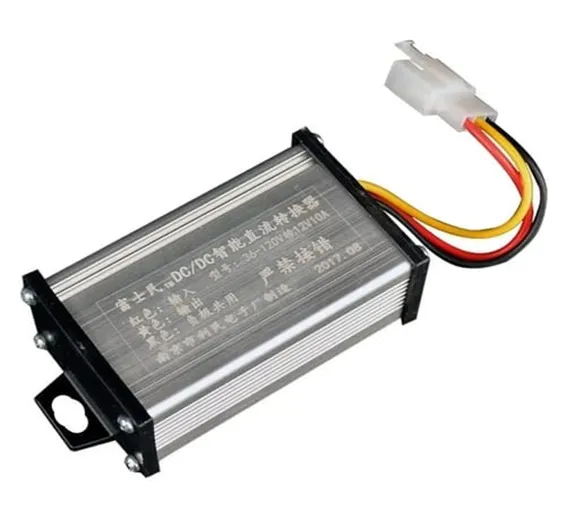 36V-72V To 12V10A DC Converter Adapter supplies electric power to an electrical load. 36V-72V To 12V10A DC Converter Adapter, the primary function of a power supply is to convert electric current from a source to the correct voltage, current, and frequency to power the load. As a result, power supplies are sometimes referred to as electric power converters. Some power supplies are separate standalone pieces of equipment, while others are built into the load appliances that they power. Examples of the latter include power supplies found in desktop computers and consumer electronics devices. Other functions that power supplies may perform include limiting the current drawn by the load to safe levels, shutting off the current in the event of an electrical fault, power conditioning to prevent electronic noise or voltage surges on the input from reaching the load, power-factor correction, and storing energy so it can continue to power the load in the event of a temporary interruption in the source power.
Features of 36V-72V To 12V10A DC Converter Adapter:
Brand new and high quality.
Convert your DC 36/48/60/64/72 volts to DC 12 volts with this compact power supply
Converter which gives you the option of powering your 12V devices.
Suitable for a 36V-72V battery pack of the electric vehicles.
Over-temperature protection.ature is too high.
Short circuit protection.
Specifications of 36V-72V To 12V10A DC Converter Adapter:
Brand BIKIGHT Material Aluminium shell Input Voltage 36V-72V Output Voltage 12V Charge Current 10A Fit For Lead-acid Battery Colour Silver Weight 145g
Wiring Connection:
Red wire: 36-72 DC Input(Anode and cathode of the battery).
Yellow wire: 12V DC Output(Horn, lamp, etc).
Black wire: 12V light - pole and Rear light-pole.
Package Included:
1 x 36V-72V To 12V10A DC Converter Adapter
Best Online Shopping website for 36V-72V To 12V10A DC Converter Adapter For Electric Car Battery Power Supply in cheap price in Karachi, Lahore, Islamabad, Rawalpindi, Sukkur, Peshawar, Multan, Quetta, Faisalabad and all over Pakistan.