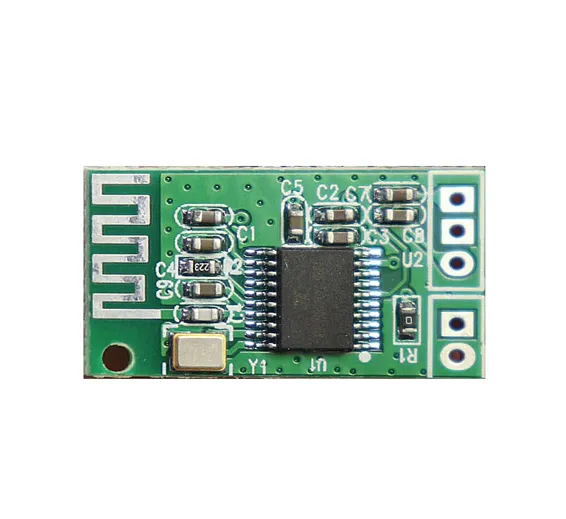 SKU: N192,B414,TMD5,Th20,KRT
Bluetooth Stereo audio receiver circuit Board is ultra-small size, easy to embed modified products. Two-channel stereo output, compatible with most of the market power amplifier, home audio and video, car audio and other equipment. High fidelity output circuit, resistance and capacitance isolation, no noise, good sound quality.
Specifications:
Input Voltage: DC 5 V
Audio Out: L R G (it must be connected to an amplifier)
Receive audio signals from mobile
Extraordinary Range 10 meters.
Smallest and Powerful
Best for any kind of amplifier.
Dimensions : 23mm x 13mm x 2mm
Features:
Make Any Speaker Wireless, Make your Car Audio System Wireless
Converts Speakers into Bluetooth Speakers
Allows you to play songs to your speakers directly from your phone, Compact, and Small can be powered with USB wall power adapter
Can buy with PAM8403 Mini 5V Digital Small Power Amplifier Board
Applications:
car audio conversion, home audio modification
personal DIY Bluetooth audio, electronic project production
square dance audio, suburban audio modification
Buy Bluetooth Stereo Audio Receiver Amplifier Module CA-S928 at Pakistan's Best Online Shopping Store at cheap price. We Deliver in Gujranwala, Karachi, Lahore, Islamabad, Rawalpindi, Multan, Quetta, Faisalabad and all over Pakistan.
Package Include:
1x Bluetooth Stereo Audio Receiver Module CA-S928