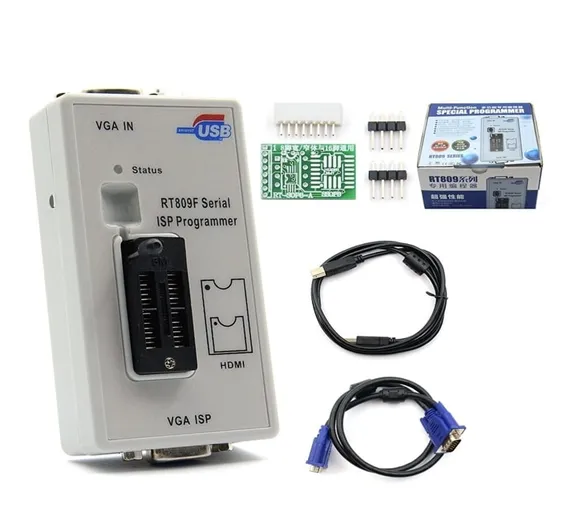 RT809F programmer is an excellent high-speed programming tool that program (read&write) all equipment like LCD/LED W,
Laptop
, PC Motherboard, DVD,
Routers
, DVRs,
Home appliances
and other many electronic types of equipment. RT809F ISP programmer, Its
VGA
ISP is specially designed for programming LCD/LED monitors and TVs without opening it with the help of
VGA
cable and can also we save a backup of programs. RT809 bios programmer, its
HDM
I port support for bigger LED/LCD Ws to Program and backup the software that can directly program the following packages :
8 pins DIP package family, SMD package must use Adapter.
6 pins DIP package family, SMD package must use Adapter.
Features Of Bios Programmer RT809F:
Support all series of 24, 25,26 and 93 ISP flash memory chips.
Support identify the chips part number automatically.
Support notebook 8 pin, 14 pin password chip and battery chip (especially 24RF08/ 6480APJ BR9080/ 9016 other special models).
Read and write commonly used 8 and 16 pins EEPROM chips.
Can read and write SPO memory DDRI, DDR2 and DDR3 chips. Especially support 24c02 chips and many other special numbers.
Can read and write NAND/NOR chips. Support Offline and online read and write.
Applications Of
VGA
ISP Programmer:
Computer motherboard / DDR / Bios
Laptop
LCD TV / DVD Player
Routers
Satellite Receiver (STB)
Home appliances
Other appliances/product
Education / DIYer's programmer
It's fast and easy to use which is connected via USB and driven by a PC software with English, Chinese, Russian language selection.
Interfaces:
USB connection to PC
VGA
HDM
16 pins ZIF Socket (Universal for expandability with adapters)
Package Includes:
1 x RT809F Programmer with package
1 x USB cable
1x
VGA
cable
1 x RT-SOP8-A Simple Adapter 1pcs
Best Online Shopping website for BIOS RT809F Serial ISP Programmer RT809 809F Programmer in cheap price in Karachi, Lahore, Islamabad, Rawalpindi, Sukkur, Peshawar, Multan, Quetta, Faisalabad and all over Pakistan.
RT809F Software: