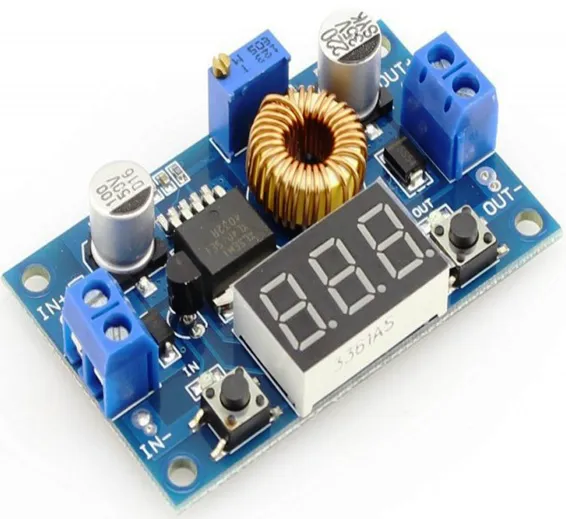 Other Modules
Adjustable Step Down Power Supply Module with Voltmeter Display XL4015
SKU: B320,Imp,Th,KRT
The XL4015 5A Step Down Adjustable Power Supply with LED Voltmeter module is a 180 kHz fixed frequency PWM buck (step-down) DC/DC module, capable of driving a 5A load with high efficiency, low ripple, and excellent line and load regulation. The module has a voltmeter display to show the current input and output voltages. It can also be calibrated for accuracy.
The voltmeter can calibrate automatically. The measure can be changed between input and output voltage, with the indicator. The voltmeter can also be shut down. The board uses the connection terminal for easy wiring.
The DC/DC buck module has applications where the input voltage is higher than the output voltage, such as battery, power transformer, DIY adjustable regulated power supply, LCD Monitor and LCD TV portable instrument power supply telecom/networking equipment, 24V vehicle notebook power supply, industrial equipment buck.
This module has an adjustable output Voltage and Current. It also works as a dedicated charger for Lithium Batteries (Li-Ion, LiPo) as it is capable of controlling voltage as well as current. Ex. 12V buck to 3.3V, 12V buck to 5V, 24V buck to 5V,24V buck to 12V, 36V buck to 24V, etc.
Voltmeter Calibration:
Onboard voltmeter shows that the output voltage, long press the right button 2 seconds to loosen, voltmeter, and the output voltage indicator light [OUT] synchronous flash, at this time into the output voltage regulation mode; Similarly, when the input voltage IN the voltmeter display, long press the right button 2 seconds to loosen, voltmeter, and the input voltage indicator light [IN] synchronous flash, at this time into the input voltage adjustment mode.
Light touch button on the right side, the voltage value is adding up a unit; Press the left button, minus a unit; Due to a unit of voltage is less than 0.1 V, so you need to press the 1-5 consecutive can see the voltmeter change 0.1 V, the concrete continuous button several times depends on the current display voltage, current shows that the higher the voltage, the fewer the number of press.
After the voltage adjustment, long press the right button for 2 seconds, release, to exit the output voltage calibration mode, all the parameters set to automatically power down saving.
Features :
Better than 2596, easy to 4A 50W, up to 75W adding the heat sink.
Power indicator: Yes.
Short circuit protection: Yes (limit current 8A).
Over-temperature protection: Yes (shutdown output automatically after over temperature).
Input Reverse Polarity Protection: None (cascade high current diode if required).
Wiring: IN+/- Input, OUT+/- Output.
Built-in current limit function.
Buy Adjustable Step-Down Power Supply Module with Voltmeter Display XL4015 at Pakistan's Best Online Shopping Store at cheap price. Here you get the best Buck convertor Regulators. We Deliver in Gujranwala, Karachi, Lahore, Islamabad, Rawalpindi, Multan, Quetta, Faisalabad and all over Pakistan.
Package Include:
1 x Adjustable Step-Down Power Supply Module with Voltmeter Display XL4015