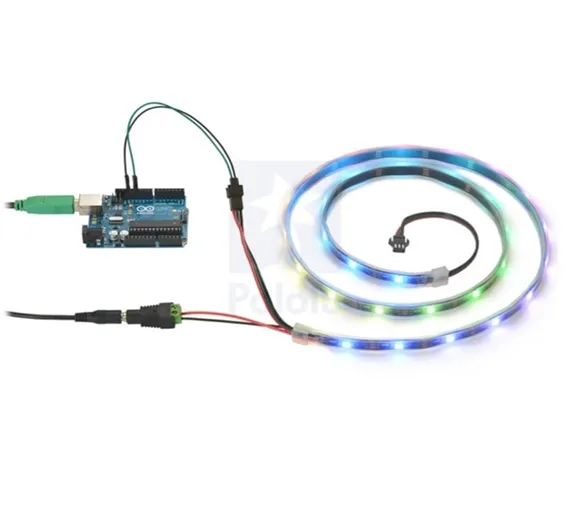 Event Lights
RGB LED Strip NeoPixel WS2812 Waterproof 60 LEDs
Free Shipping
SKU: B422,TMD,Th,KRT
When you want to control each LED's colour and intensity individually and A LOT of LEDs, this is your solution. Create cool lighting displays where each LED can be controlled all on NeoPixel own and turn on/off, change colour and brightness by itself. Use an Arduino board to control the strip using just 2 pins just like our LED Sequins and Addressable RGB LEDs. Each LED has a chip inside it to control it's behaviour on its own which allows you to cut the strip after any single LED if you want to use a shorter length.
Specifications:
LED Type: 5050 SMD Pixel (Individually Addressable Neopixel Compatible)
Chipset: WS2812 (Same as our LED Sequins and Addressable RGB LEDs)
Size: Length 1 meters x Width 1.2cm x Thickness 0.5cm
Emitting Color: RGB (every LED can be a different colour at the same time)
Waterproof: IP65
Grey Scale: 256
Colours: 8-bit colour
Working Voltage: 5V DC
LED quantity: 30 LEDs
Max Wattage: 18W/meter
Max DC Current Draw: 3.6A/meter
JST Connector Pinout:

VCC: Red Wire, 5V
GND: White Wire, 0V
DIN: Green Wire, Data In
DOUT: Data Out (Green wire, to next strip)

Every LED is cuttable!
Use this power supply to power the whole strip and this controller.
Package Includes:
1 x Addressable RGB LED Strip NeoPixel WS2812 Waterproof 30 LEDs
If you don't care about the frame/refresh/update rate of your LEDs, there is no theoretical limit on the number of LEDs you can control. If you do care about the frame rate, then you must consider the trade-off between the number of LEDs and the maximum possible frame rate. It takes 30 μs to send the colour for a single RGB LED because the colour is 24 bits and each bit takes 1.25 μs. Let's assume that you are using a single microcontroller to control one chain of LEDs (which could consist of multiple strips chained together). If you want a 30 Hz update rate, then you need to update all the LEDs every 33 ms. If it takes 2 ms every frame to calculate the LED colours and to do any other tasks, then there are 31 ms leftover for updating LEDs, so you could update a maximum of about 31000/30 = 1033 LEDs. With a lower frame rate, you could control even more LEDs.
Best Online Shopping website for DC5V WS2812B 30 Strip Addressable LEDs in cheap price in Karachi, Lahore, Islamabad, Rawalpindi, Sukkur, Peshawar, Multan, Quetta, Faisalabad and all over Pakistan.