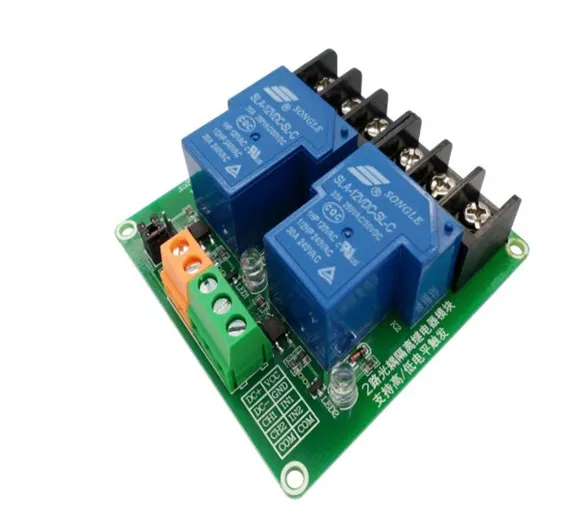 The relay module is a separate hardware device used for remote device switching. With it, you can remotely control devices over a network or the Internet. This 5V 30A 2-channel relay modules with optocoupler isolation compatible with trigger High and Low trigger for smart home, PLC automation control.
Features:
Using FR-4PCB double-sided board
With high power relay, controls the load up to 30 A
With each optocoupler insulation, anti-interference capability
9500 black terminals, more convenient for high current wiring
Each circuit has a relay in the LED indication
The modules comply with international safety standards with insulation slots in the control and load areas
Applications:
PLC automation equipment control
Industrial Systems control
Internet of things control
smart home control
Development Experience of electronic hobbyists and all kinds of circuit modification
Specifications:
Supply voltage: 5V
Standby Current: 5mA
Maximum operating current: 190mA / 80mA / 50mA
Shooting mode: low trigger, high trigger
Charging voltage: DC 30V or AC 250V
Charging current: 30A
Relay life: more than 100,000 times
Voltage Rate:
5V low trigger module: 0-2VDC relay on (on), 3-5 VDC relay off (off)
12V low trigger module: 0-5 VDC relay on (on), 6-12 VDC relay off (off)
24V low trip module: 0-12VDC relay on, 13-24VDC relay off.
05V high trip module, 3.3-5VDC relay (on), 0-2.5vdc relay off (off)
12V trigger module: 6-12 VDC relay (on), 0-5 VDC relay off (off)
24V high trip module: 12-24 Vdc relay (on), 0-8.5vdc relay off (off)
Buy 5V 30A 2-channel relay module with optocoupler Isolation at Pakistan's Best Online Shopping Store at cheap price.Here you get a wide range of 2-channel relay modules for Arduino and many other Controller. We Deliver in Gujranwala, Karachi, Lahore, Islamabad, Rawalpindi, Multan, Quetta, Faisalabad and all over Pakistan.
Package Includes:
1 x 5V 30A 2-channel relay module