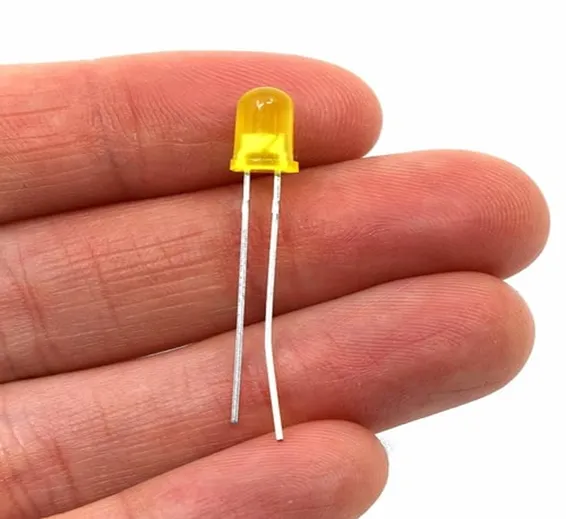 LEDs & IR
5mm Yellow LED Light Emitting Diode
SKU: SB46,D23,TMD,Th100,KRT
5mm Yellow LED Light Emitting Diode is bright and blinky, or soft and elegant. Yellow LED Lights Emitting Diode is festive! They're colourful! They're everywhere and they're a lot of fun. We love LEDs when we write tutorials because most of electronics hackery is hidden in chips or goes very fast and we can't see or sense it without expensive equipment. But LEDs are easy to see for everyone - this way we can visually identify what is going on inside our microcontroller.
Features of 5mm Yellow LED Light Emitting Diode:
Ideal for colour displays, indicators, diagnostic or analytical types of equipment and etc.
Product usually is used to solder on the PCB board as an indicator light.
Easy to install and easy to use.
Low power consumption but high light intensity, nice reliable, long mechanical life.
High-quality product for your PCB boards.
Affordable price with a high-intensity light and other features.
Specifications of 5mm Yellow LED Light Emitting Diode:
Dimensions: 5mm Round LED
Size (Diameter) : 5mm
Colour: Yellow Light Colour
(ElectroStatic-Discharge) ESD: 3000V
(Operation Temperature Range) Topr: -25C ~ 80C
(Storage Temperature Rage) Tstg: -40C ~ 100C
(Soldering Temperature) Tsol: 260C (5sec)
Package Includes:
1 x 5mm Yellow LED Light Emitting Diode
SKU:

SB46,D23,TMD,Th100,KRT

/
Category: Displays
/